Kind Beats' Andrew McAuley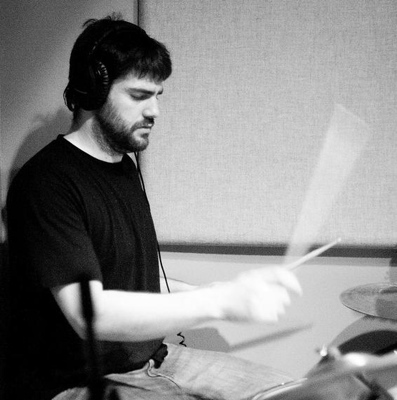 Hey, everyone, I'm back to let you all know about some big developments that have happened over the last year—and believe me, there have been quite a few!
The first thing is that I have become an official endorser of Hammerax cymbals and hybrids. If you are at all familiar with my playing and philosophy on drumming, then you know that it's my belief that every drummer should strive to find his or her own unique voice and phrasing on the instrument. For me, I feel like I have finally found a company that offers the sounds and colors that fit my personal "vocabulary" on the drums. If you aren't familiar with Hammerax cymbals, be sure to check them out! Also, make sure to watch the improvised duet with fellow Hammerax hybrid endorser Terry Bozzio and myself on my Drum Channel link below.
Next is the launch of my new website, which also serves as a site for all drummers—www.kindbeatsdrums.com. Along with regular updates on all of my musical endeavors, the site also features tons of free videos, lessons, music, drum loops, artist interviews, and most importantly a forum where drummers can talk to and learn from each other. Be sure to check it out below and join the conversations!
If you read my first blog entry here on moderndrummer.com, you know that last year I had launched a free online mixtape series dedicated to drums and percussion, Heavy In The Beats. A few months ago I released Volume 2: No Dough, Deep Pockets, which featured original drum grooves for sampling, and it has already been downloaded thousands of times! The response to the album inspired me to start branching out into the realm of production, so besides making myself available for custom drum tracking/loops, I have also begun working on compiling a sample pack for producers which will feature samples of all of my drums, percussion instruments and cymbals as well as a ton of loops. Hopefully it will be available by the year's end. Advertisement
To drummers who dig a good groove and want to lay it down thick, this next update is for you. I am starting an online video series titled The Return of the Groove, which will focus on demonstrating and breaking down original and classic boom-bap beats. In a time where most videos seem to focus on chops and technique, I feel a series like this is necessary so that we don't forget the true soul and musical nature of drumming. You will be able to watch the series on both my new site and my YouTube channel.
On the education front, I've been working with fellow Hammerax endorser Aaron Edgar to put together what we are calling the Color and Chaos clinic tour. For more information on tour developments, be sure to check out the links below. I'm also currently accepting private students and offering video lessons. Students interested in studying with me can find my contact info on my site—please don't hesitate to write, I won't bite!
Finally, I mentioned in my last blog that I was working on my debut drum and percussion album, This Is Your Brain On Drums. It's still being worked on, and I'm hoping to have it out by the end of this year, but I'm not making any promises. I don't want to rush it—it's a labor of love. Advertisement
In closing, I'd like to thank the MD family for allowing me to reach out to all of you, and thanks to every single one of you who has been supporting me along this musical journey. It's an absolute honor to have you all with me for the ride. Much love!
For more on Andrew McAuley and Kind Beat, go to www.youtube.com/kindbeats,www.facebook.com/AndrewMcAuleyakaKindBeats, or www.kindbeatsdrums.com.