Cory Procter of Free Reign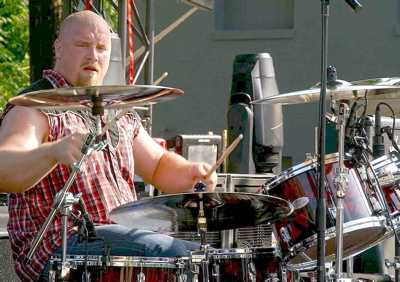 Hello to all MD readers! My name is Cory Procter, and I am the drummer in the heavy metal band Free Reign. We have a different dynamic than most bands in that three of the four members in our group play football in the NFL. Two of us are with the Dallas Cowboys, while I'm with the Miami Dolphins. Our lead guitarist, Justin Chapman, is the only one with a normal job. We each took a unique turn into what we like to call the land of Free Reign. This is a place where violent screams, melodic overtures, and thunderous beats flow and form glorious musical sounds that will leave your eardrums bleeding and thirsting for more.
Recently we prepared for the release of our first full-length album, Heavier Than Metal. It provides a great example of the wide spectrum of styles we like to play. We had a blast recording it and developing the new songs. We have a mastermind in our producer, Alex Gerst from Indian Trail Studios. He has a great mind for bringing music to life and deserves a lot of credit for making us sound awesome. He's also a drummer, which was a great help to me in the studio. Make sure you guys check out the album and let everyone know what you think.
I'm extremely fortunate to be with Pearl drums, Sabian cymbals, and Pro-Mark sticks. I have a couple sets, but my baby is a Pearl Reference kit. I have 12″, 13″, 16″, and 18″ toms, two 24″ kicks, and a 14″ 20-ply snare, which sounds awesome! I had it custom painted by Nub at Nub Grafix, and it came out great. My cymbals are a bit of a mix but mostly from the Neil Peart Paragon series. They sound great and cut through the music really well. They've been very durable, which is good because I hit them as hard as a 310-pound guy can. Advertisement
We've been together about three years now and have accomplished a great amount in a very short timeframe. We've been very blessed to have the opportunities we've had, and we thoroughly enjoy performing and creating music. Although we're a group of good-looking, strong, awesome dudes, we can be very devilish and cunning on stage—so beware! Thanks to Modern Drummer for letting me blog!
For more on Cory Procter and Free Reign, go to www.FreeReignmusic.com and www.myspace.com/FreeReign.