Jason Ganberg of Purple Melon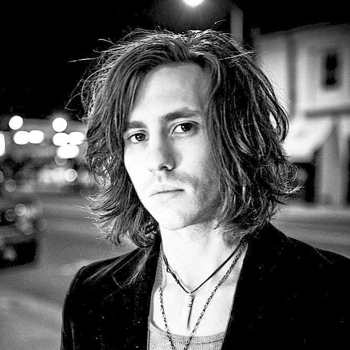 Hey, MD readers! I'm Jason Ganberg of the British rock band Purple Melon. Just dropping you guys a few lines about what I've been up to out in L.A. and how everything has developed for me since I started drumming back in England fifteen years ago!
I grew up in Swindon, England, and started playing percussion at a young age when I was traveling with my dad around Africa. I spent two months in Ethiopia and a further four months in Senegal in West Africa. Sitting out and shedding djembes with master drummers really helped me gain a strong rhythmic foundation—I couldn't have asked for a better introduction to drums! I had begun to play the drumset by the time I was nine years old and was heavily into old progressive rock bands like Genesis and Yes. At sixteen, I moved to London to study at Drumtech, where I got a music degree. I was very into Dave Weckl and would dissect everything he played. I would check out every great musician and band that came into town, mostly at Ronnie Scott's jazz club, where I was lucky enough to see greats like Billy Cobham, Chick Corea, Dave Weckl, Joe Zawinul, and Mike Stern on a regular basis. Since then, I haven't stopped working as a drummer.
At age twenty-one, I was playing all over London and teaching drums when Purple Melon approached me. As soon as we played together we all knew it was the right fit, and I joined the band the next day. We spent a year recording with Paul Stacey (the Black Crowes, Oasis) at the legendary Rockfield studios in Wales and moved to L.A. as soon as we'd finished. It was amazing working with Paul. Everyone in the band matured and became men, as it were. I really found my identity as a drummer whilst working on this recording, and I spent a lot of time studying John Bonham, Mitch Mitchell, Ginger Baker, and Ian Paice to give me authenticity as a rock drummer. Advertisement
Since moving to LA, we've grown a great fan base and we sell out shows all over the Sunset Strip, which now feels like home for us. We had a great feature on MTV's The Hills at the Viper Room and also were on Simon Fuller's new show, If I Can Dream. This year we hope to release our first album, get out on tour all over the U.S., and spread the word!
I was lucky enough to use some amazing vintage drums whilst recording our album, which inspired me to pick up a 1969 Rogers kit. I usually use a maple Mapex Black Panther snare for live shows. It's loud and full of body.
I endorse Sabian cymbals, and for my rock playing I tend to use their APX range. I have a 24″ ride, which I really love—it helps give me that fat Bonham feel, and I can really lay into it when rocking out. I also use a 21″ Crossover ride from Sabian's Vault range. It's warm and versatile and blends with the music really well—check it out! The rest of my cymbal setup includes 18″ and 20″ Sabian APX crashes and a 20″ HHX projection crash. Advertisement
I hope you enjoyed reading, and I'll see you at a show in the near future! Peace.
For more on Jason Ganberg and Purple Melon, go to www.twitter.com/purple_melon or www.facebook.com/purplemelonmusic.