The Black Eyed Peas' Keith Harris
 (From the February 2011 Issue of  Modern Drummer magazine)
by Stephen Styles

Growing up in a Chicago church, a young Keith Harris aspired first and foremost to be a great drummer. After watching his mentor Henry Jones hold down the drum chair Sunday to Sunday, Harris finally got a chance at the age of ten to get on the kit and show his stuff. Although he never received a formal lesson from Jones, Keith still credits his first drumming hero with teaching him most of what he knows behind the drums.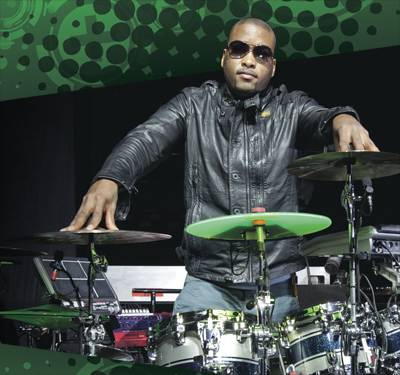 "Watching Henry at church was the best school a drummer could go to," Harris says. "I learned everything from him—how to tune a drum, how to sit on the seat, how to hold the sticks, how to be musical, and how to bring the fire. He would point things out to me if I needed to work on something, most of the time by just showing what the right way was. Away from the kit, I never saw Henry act out of pocket or get beside himself. He's always been a really cool, respectable, laid-back type of dude, and I try to live my life that same way."
At Chicago's Curie performing arts high school, Harris picked up more important tools of the trade, building his sight-reading chops, honing the keyboard and bass skills he'd picked up in church, mastering concert percussion, and performing blazing drum solos with the advanced jazz band and stage bands. With a flair for showmanship that predated this millennium, Harris played a solo at the end of his senior concert that included flipping his drumsticks into the audience in the middle of lightning-fast full-kit rolls, only to finish with a pair of sticks carefully hidden in the sleeves of his suit jacket. Advertisement
After high school, Harris attended Boston's Berklee College Of Music, graduating with a degree in production and engineering. Armed with the skills and know-how to succeed on both sides of the music-making process, he relocated to New York to work as an engineer for Bad Boy Records hit maker Richard "Younglord" Frierson. While in the Hit Man's camp, Keith mastered the concept of crafting catchy tunes that can be appreciated by musicians and average listeners alike.
"The musician side of me wants to play complex chords and have ear candy in there for all the players," Harris says. "But I had to learn how to produce music that speaks to everyone, because that's what sells records."
Having written and produced for albums that have collectively sold more than 15 millions copies worldwide, this rising star has some cred when it comes to talking about what sells records. And it seems that the folks at Universal Music Group would agree, having recently signed Harris to a global publishing deal—not a run-of-the-mill accomplishment, even for the most high-profile drummers in the business. Advertisement
We spoke at length with Keith for his cover story in the February issue of MD; here's more with the busy drummer about town.
MD: When you're producing, do you normally play drums yourself?
Keith: It depends. On Jully Black's record, I did all the drumming. Most of the time when I'm producing, I focus more on playing keys. Sometimes I'll bring in other musicians like Ethan Farmer and Gorden Campbell. I like using other drummers that I respect so I can hear a different perspective on the music.
MD: When it comes to choosing the players for sessions you produce, do you call them based on their ability to get in and do the job quickly, or does it depend on the song?
Keith: It's a little bit of both. I have a collection of guys I can call on. Some have a feel that works better on a certain type of song. It all depends on who I'm producing for and how much time I have. If I need an indie-rock sound, I'll call a guy that I know is appropriate for that.
MD:With the ways the industry and economy have changed, it's seemingly becoming harder to earn a living as a player. What does the up-and-coming drummer need to focus on to have the best shot at making it to the big stage? Advertisement
Keith: It really helps when you have a certain niche and something special that makes you different. That will keep you working. The more facilities you have on the instrument, the better.
A perfect example of that is Teddy Campbell. Teddy is always working because he can play any style of music and he knows his instrument. He had to learn like 800 songs for that show Don't Forget The Lyrics! You think he learned all 800 songs? Maybe. But he can read. You have to be able to read and have versatility.
The more well versed you are, the more likely it is that you can step into different situations and do a job that the next guy can't do. One of the reasons Will.i.am likes me is because of my education and knowledge. Not just my drum education, but my knowledge of chords and chord progressions, harmony, and being able to hear things and show him how chords move. Having that type of musical facility is the kind of thing that the average drummer doesn't have. So it helps put me a little bit ahead.
Every extra little thing you can pull out of your pocket in terms of knowledge and musical ability is going to help you get ahead and have longevity in the industry.
Read the complete interview in the February 2011 issue of Modern Drummer, on sale January 4, 2011.