Gorden Campbell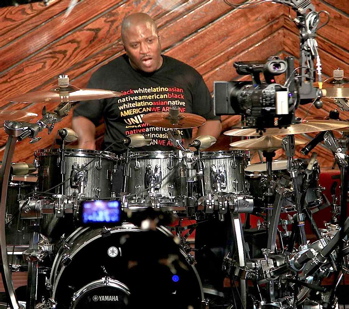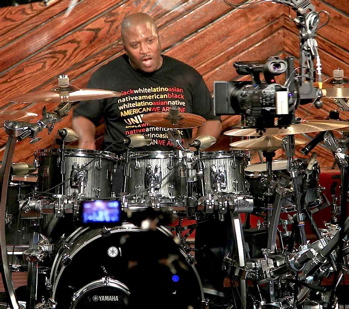 Hey, MD readers! It's your boy Gorden Campbell, and I'm back once again to give you an update on my travels around the globe! This has been a busy year for me. From the George Duke and American Idol tours, to recording my first instructional DVD, I've had a great year!
Just to give you a little background info: I'm from Newburgh, New York. I grew up listening mostly to gospel drummers like Joel Smith, Dana Davis, Jeff Davis, and Kevin Brunson. As I got older I started listening to cats like Billy Cobham, Steve Gadd, Dennis Chambers, Omar Hakim—the list goes on. I was able to perform in a variety of musical situations, from marching band and jazz band to playing gospel at church. I attended college at Howard University in Washington D.C., where I was a jazz studies major. After graduating, I moved to Los Angeles and began the hustle. In my seventeen years of being in L.A., I've been blessed to have worked with a wide variety of artists, including Earth Wind And Fire, Whitney Houston, Mary J. Blige, Jessica Simpson, George Duke, Beyonce, Kelly Rowland, and Neyo.
Okay, back to the update! I'm really excited about recording my first instructional drum DVD. It's called Secrets Of The Working Drummer. In this video, I talk about how to make a living playing drums in the music industry. I will show you how to apply the technique, grooves, chops, licks, and fills (which we so vigorously work on) to a real-life situation in a musical way. I brought in director Eric Dorris, from Todd Sucherman's DVD, to help me make my dream a reality. It will be out summer 2011. You can look for it on my website. (See the link below.) Advertisement
I'm also very happy about the first Rhythm Alliance Drumming Experience, held this past October 9 at the Conga Room in Los Angeles. The Rhythm Alliance is made up of six drummers—Aaron Spears, Nisan Stewart, Gerald Heyward, Teddy Campbell, Marvin McQuitty, and me—who wanted to entertain, instruct, and give back to musicians around the world. Our first show went very well! It featured performances by Thomas Lang, Lil Nick Smith, Trevor "Bud" Lawrence III (who was four years old!), and the Rhythm Alliance (which included Chris Coleman). There were lots of giveaways, raffle prizes, and great drumming. Hopefully we'll see you at the next event. You can check out our website below as well.
In April I went on a six-week tour of Europe with George Duke. That was a great tour. I love playing with George because we touch on a wide variety of styles. We play everything from straight-ahead jazz and the craziest odd-meter fusion to Brazilian and R&B. Just plain good music! After that I went straight to the American Idol summer tour. That tour was fun because it was more rock-oriented. We played songs by Muse, Rascal Flatts, Kings Of Leon, Maroon 5, Coldplay, and Christina Aguilera. Big fun! I also did a bunch of dates with smooth jazz artist Jonathan Butler and my group, the E&G Band. I'm also producing my first artist signed to G. Campbell Entertainment. His name is Dylan Allen, and he's a phenomenal eleven-year-old singer. Remember his name!
Thanks for reading. Peace!
For more on Gorden Campbell, go to www.gordencampbell.com. For more on Rhythm Alliance, go to www.therhythmalliance.com. And for more on Dylan Allen, go to www.dylan-allen.com.