John Tempesta of The Cult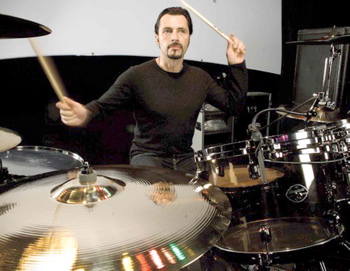 Greetings, Drum Nuts! I'm currently on tour with the Cult, and I'm really excited about the new songs we've been performing. I had a blast in the studio recording them and wanted to share the process and how the songs came together.
The latest songs are "Every Man And Woman Is A Star," "Siberia," "Embers," and "Until The Light Takes Us." Chris Goss, whose work I have admired for years, produced the songs. He comes from the band Masters of Reality and has produced Queens of the Stone Age, Kyuss, and Screaming Trees and is known as "The Godfather Of Desert Rock." Chris's preferred drum room in L.A. is Sound City Recording in Van Nuys, which is the room where Nirvana did Nevermind and where so many other great-sounding drum albums were recorded. What I love about Chris is that he records drums in analog on two-inch tape, which has always been my favorite recording method. The room at Sound City is very big, and Chris had two-inch plywood laid out over the floor to liven up the drums as much as possible. He's not into using any drum muffling or dampening, so his approach is a very old-school, Zeppelin-type of process.
Our bass player, Chris Wyse, and I recorded all of the tracks live together, with the emphasis on doing very few takes, to keep it fresh; everything was done within the first couple of takes. The two kits I used were my Tama Starclassic maple live kit (26″, 13″, 16″, 18″) and another kit with Dunnett stainless steel shells (with a 15″ rack tom replacing the 13″—huge) along with my Tama Signature snare drum and a variety of Zildjian cymbals. For heads I used all Remos—Emperor X snare batter, coated Emperors on the top of toms and coated Ambassadors on the resonant sides, and a coated P3 kick drum batter with a smooth white (no hole or muffling) on the resonant side. And of course I used Vic-Firth sticks. Advertisement
I'm really happy with the drum sounds we achieved on this album, and I hope you guys get a chance to check it out on iTunes. Also, as a life-long MD reader, I want to say it was an honor to be featured as Drummer of The Day recently—thanks so much for the compliment! Hope to see you all at a Cult show soon. I'll take you down to Chinatown.