Joe Vitale: Joe Walsh, the Eagles, & More!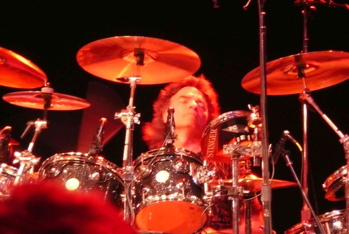 Hi, everyone in drum land, Joe Vitale here. As a fellow fan of Modern Drummer magazine, I'm so happy to be part of this wonderful community. For those of you who might not know who I am, I've toured and recorded with Joe Walsh, the Eagles, Crosby, Stills & Nash (and sometimes Young), Peter Frampton, Ted Nugent, and Dan Fogelberg, and recently had the incredible opportunity of playing with the Buffalo Springfield reunion at Neil and Pegi Young's Bridge School Benefit concert. As you probably are aware, the original rhythm section, Bruce Palmer (bass) and Dewey Martin (drums) have passed away, so Rick Rosas and I were asked to be part of the band.
I can't begin to tell you how honored I am and how exciting it was for me to be performing that music with [surviving Springfield founders] Stephen Stills, Neil Young, and Richie Furay! This was the first time the band had performed live since 1968. Wow—forty-two years!
I've toured for decades with Stephen Stills, recorded and played many times with Neil Young, and Rick and I did numerous tours together with Joe Walsh. I've known Richie Furay for years, but this was the first time we played together. I have photos and stories in my book, Joe Vitale: Backstage Pass, about possible Buffalo Springfield reunions, and now it finally happened. Advertisement
From measure one at rehearsal, the magic was in full bloom—what a sound…what a groove! If a picture's worth a thousand words, this one speaks volumes—showing the absolute joy on everyone's face. Yes, rehearsal and the show were beyond all expectations. What a fantastic experience!
When we walked out on the stage the first night of two shows, there were so many emotions, excitement, confidence, fear, butterflies, anticipation—you name it—and even some bittersweet sadness with the memory of Dewey and Bruce. We headlined both sold-out shows. By the next day it was all over YouTube. Who would have thought, the Buffalo Springfield lives and has gone viral. Will there be more in the future for the Buffalo Springfield? I'll be back and let you know! I'll also be posting all updates on my website at www.joevitaleondrums.com, where you can also order my book and solo CD, Speaking In Drums. I'm also on FaceBook and MySpace, so drop by and say hello any time. Stephen's daughter, Eleanor Stills, took the photo below of the five of us—from left: me, Stephen Stills, Richie Furay, Neil Young, Rick Rosas.