Nate Morton with Cher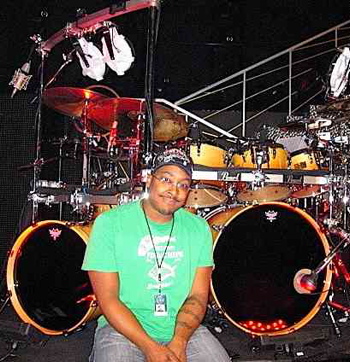 Hey, everybody, Nate Morton here with a quick update. I've been performing with Cher in Las Vegas at Caesars Palace, and the performances have been amazing, truly an extravaganza! I'm often asked what it's like working with Cher, and the best response I can think of is, she is exactly like what she seems—a down-to-earth, multi-talented, hilarious legend. I take my hat off to her. This is one of the most relaxed, enjoyable gigs I've ever done, and I'm thrilled to be a part of it.
Since Cher's music spans four decades, the drums I'm playing on the gig are a hybrid electronic/acoustic kit. The acoustic drums are Pearl Masters Customs, with a 24″ kick, 10″, 12″, and 13″ rack toms, and 16″ and 18″ floor toms. My primary snare is a 61/2×14 Pearl Reference solid brass, and the auxiliary snare is a 61/2×13 Pearl Reference 20-ply wood model. A Roland TD-12 drum brain with a compliment of pads and triggers handles my electronics, and the cymbals are a collection of metal from bright and brash to dark and brooding. I have enjoyed a long relationship with Zildjian Cymbals and Sticks, and they have always had the right tools for the job. Rounding out the rig is a Rhythm Tech tambourine, mounted on the rack behind me is my EPad drumpad, and the cymbals are held between Cympad synthetic cymbal felts. Many detailed pictures of the kit are available on my FaceBook page. (See the link below.)
Cher's current Vegas run concludes at the end of October, then in November I will reunite with an exceptional vocalist and friend named Robin McKelle. I will be in France with her for two weeks of jazz festivals. If you're interested in catching me on recordings, here's some music to check out (all of these records are available on iTunes): Playground Philosophy by Dootybug (my band), Modern Antique by Robin McKelle, Yours by Stefanie Kelly, and The Rush Of Sights And Sounds by Dan & Leland. Advertisement
Hope everyone's enjoyed reading this little update as much as I've enjoyed writing it. Keep it groovin!'
To see pictures of Nate's kit, go to www.facebook.com/people/Nate-Morton/714536924. And to read more with Nate, look for his Update in an upcoming issue of Modern Drummer magazine.