Wesley Moore of So Contagious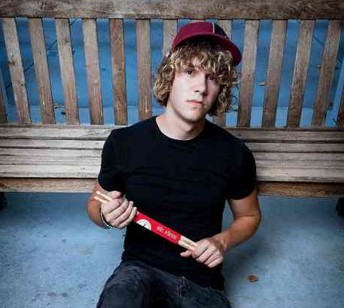 Hey, fellow MD fans! I'm Wesley Moore, and I play in the rock/pop-punk band So Contagious. We are all nineteen and twenty years old and reside in Atlanta, Georgia.
I began drumming at the age of eleven. I walked into a local music store, bought some sticks, and began taking lessons five minutes later. My parents and grandparents were very supportive of me pursuing music. My grandfather is a talented steel guitar player and has earned his way into the Georgia Music Hall of Fame. I definitely feel I owe much of my musical talent and passion/desire to him. He has told me many stories about growing up and playing that really reflect on what a true love for music is. I fell in love with drumming and music when I was in eighth grade. I can definitely say that was the turning point for me. I would come home from school and drum as much as I could before my parents got home from their long day at work. I was strongly influenced by drummers such as Travis Barker (Blink 182), Longineu Parsons (Yellowcard), Cyrus Bolooki (New Found Glory), and Mark O'Connell (Taking Back Sunday).
At age fifteen I started a band called Seven Story Fall with my best friends. I made it my baby when I was seventeen and kind of ran things out of a mini-office in my bedroom. Ever since doing so, I've gotten to see and experience things I only dreamed of when I was younger. We went on to sell over 20,000 singles under that name, however we encountered a few problems regarding copyright/trademark issues and changed it to So Contagious for our recent release, Locked & Loaded. The CD contains four powerful tracks that we recorded this past April in Orlando, Florida. We worked with the legendary James Paul Wisner (Paramore, Dashboard Confessional, Underoath). It was an amazing experience. We were in the studio for about a month and actually got to live in James' house. The drum sounds turned out astonishing, and I learned a lot about the different ways drums could add emotion to a song. We also shot and released our first music video for the title track of the CD. We now tour and write music full-time. It's great because not only do I get to meet tons of people who have been following us for a while, I also get to visit different states and cities that I probably never would have gotten to go to. Being on the road simply allows you to "live," in my opinion. And by doing so, I've learned first-hand that it's the best way to find out exactly who you are and learn about life in general.
As far as gear goes, I'm in love with my setup. When I was fifteen, I went in with my parents and purchased a Pork Pie custom kit in a green glass glitter wrap. I cut many lawns to save up my money and help pay for the kit. I'm still using it live and in the studio—it's been good to me and I have so many memories with it. The dimensions are 18×24 bass, 9×12 rack tom, and 14×16 floor tom. I recently started working with some amazing companies as well. A few months ago I landed a sponsorship with Truth Custom Drums. I had them build me an 8×14 brass snare with die-cast hoops. It sounds like a straight-up cannon and looks so fresh and clean! I definitely plan on getting a kit from them soon. Another company I've been working with for quite a few years is Saluda Custom Cymbals. They are a smaller independent company from South Carolina and put so much detail into their products. I am using 14″ Diamond hi-hats, 19″ and 20″ Nemesis crashes, an 18″ Earthworks China, a 6 1/2″ bell, and a 21″ Nemesis ride. I recently joined the Vic Firth family as well. Ben and everyone over there have been super nice and welcoming to me. I'm currently using the Vic Firth X5B—it's a 5B with a little more beef and length to it. The first pair of sticks I ever owned were Vic Firths, so it's great to finally become a Vic Firth drummer. Make sure you check out all those companies and their wonderful products. Advertisement
Thanks for taking the time to read my blog! Keep drumming, and make sure you keep your passion for music strong. Stay hungry, stay motivated, and stay willing to learn. The day you stop learning is the day you stop growing. Take care!

For more with Wesley Moore and So Contagious, go to www.myspace.com/wearesocontagious, and to watch the band's official music video, go to www.youtube.com/socontagioustv.