Gene Hoglan: Making Dethklok's Metalocalypse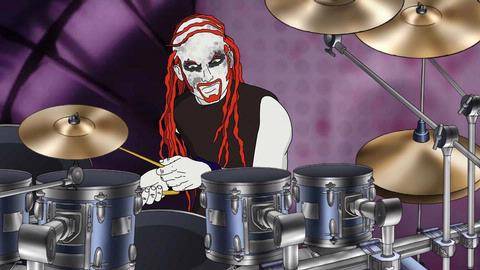 by David Ciauro
Rock stardom can sometimes happen in strange ways. In death metal drumming trailblazer Gene Hoglan's case, it took having a cartoon alter ego named Pickles to finally put him—and the genre itself—at the top of the charts. In this exclusive MD Online story, the metal hero and Metalocalypse co-creator/composer Brendon Small take us inside the creative process behind the making of the album. Plus: Gene's TV alter-ego Pickles checks in.
MD: Take us through the Dethklok songwriting process.
Gene: Basically, Brendon takes the little bits of songs that appear in the Metalocalypse show and expands on them.
Brendon: Yeah, it's pretty much just bridge, bridge, chorus, intro solo, and then I go from there. I'll give Gene a collection of twenty tunes, and we'll go into the studio and work a song out. I'll ask Gene to just keep playing a certain beat for a while, until I can work out a part or some transitions. Overall, it's done pretty quickly. It's creating the songs immediately and just going with it, because we try to record at least one or two finished songs a day. It's basically getting a scratch [track] for Gene to record to. I can make guitar-part changes later. Let's go here for this amount of time, let's go half time here for a while…and then it's a jamming-out process where Gene figures out what works best. Gene's a very musical drummer. He has sick chops, but he's not all about chops. He knows how to help songs get from one point to the next. Gene is truly great at creating those transitions.
MD: In a lot of bands, the guitarists often look to the drummer for transitions to get from one musical place to the next.
Gene: I think a lot of drummers have a really good ear for arrangement. I actually play more guitar these days than I do drums. I'm always writing songs on guitar and recording them, which helps me be a better arranger on the drums. When working with Brendon, he'll have a riff, and I'll listen to it and process it, and it will end up as something really psychotic in an off time or something. We've done three albums together now, the two Dethklok albums and Brendon's solo album, and we have a pretty good working relationship going. I always believe in playing a part that works best for the song and not just doing what I want, which makes all the projects I'm in distinguishable from one another. I actually feel that always sounding like yourself is a disservice to each band's songs, their music, their character, their vibe. You have to serve the song. I'm just a huge fan of music in general, which helps me mesh many different genres, even though I'm synonymous with metal. Advertisement
MD: You mentioned odd time signatures. Being self-taught, do you approach odd-time parts by feel, or do you count them first?
Gene: It's usually a feel thing. I just feel out the pulses before it recycles. Sometimes it helps to count it first and then feel out the pulses. It depends.
MD: Have you ever been stumped by a part?
Gene: On the latest Dethklok record, there's a song called "Dethsupport" that has a part where I looked at Brendon and said, "You bastard!" It took me a few days to wrap my head around it because it was super-technical at first. It's a bar of six and then a bar of seven, with subdivisions where I'm playing an accented blast. During the part where the lyrics are "Pull the plug," it's the same vibe but with a bunch of fills added.
MD: Since you learn and record the Dethklok tunes in the same day, do you wind up having to comp your parts?
Gene: Yes. With Dethklok, I learn each song pretty much on the afternoon that we're going to record it. Brendon and I will have a couple songs picked out that we're going to go with that day, and I'll learn them on the spot. Then I'll do about seven or eight passes of each song, and they'll just cull the best pieces and make a solid track, but each take is me playing the song all the way through. However, with projects like Strapping Young Lad, we rehearsed that material for about three months before we went into the studio, so we did just two takes: one to warm up, and then the real take. Every project will approach recording differently, but each take I do is me playing the songs all the way through…whether it's one take or eight. Advertisement
Dethklok's Pickles Gets Serious

Uh…no…not really. Thoughts from the mushy mind of the two-dimensional, universally renowned drumming legend Pickles.
MD: When did you first pick up a pair of drumsticks?
Pickles: I was at a sushi restaurant, and they ran out of chopsticks.
MD: An all too familiar tale. Who were your early musical and drumming influences?
Pickles: I listened to a lot of lawn mowers and jackhammers. I remember being impressed with their pounding rhythms and dexterity.
MD: Uh-huh. How did you develop such blazing double bass chops?
Pickles: There was a short time when I tied cannonballs, cement blocks, and garbage cans to my legs and went on jogs. Good for building stamina. But more important, I watched a lot of Gregory Hines and Shirley Temple.
MD: What are your pre-show rituals?
Pickles: I run around in tight little circles for about twenty minutes, drink a fifth of whatever's around, cross my eyes and mutter at myself in the mirror, and then projectile vomit and run toward where I think the stage is. Usually it's the other direction. Advertisement
MD: Exercise, proper hydration, self-reflection, and coping with nerves are all key steps to a good performance. What gear are you currently using?
Pickles: Drums mostly.
MD: Before joining Dethklok, you were actually the lead singer of the L.A. glam band Snakes N' Barrels. That's quite a departure musically. Was it hard for you to get respect in the death metal community, coming from a band that, stylistically, is the antithesis of everything Dethklok?
Pickles: Not really. A lot of my audience followed me. They were ready for something heavier. And there was a stretch of a few years when I kept away from the music scene and just played drums in my apartment. My neighbors hated me.
MD: You are in an elite league of drummers who have the ability to emerge from behind the kit and take on the charismatic role of a frontman. Where do you feel most comfortable?
Pickles: I feel most comfortable in sweatpants.
MD: You have such a poetic elegance to your logic. What's next on the agenda for Dethklok?
Pickles: Next for Dethklok? Were talking about ordering ham sandwiches right now. Beyond that I don't know…maybe burn something? Like money. Advertisement