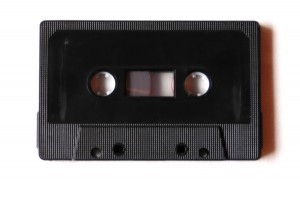 Associate Editor Michael Parillo
Ah, Gong. For me there are times when nothing else will do. Some days I just need to hear a lot of notes — a lot of well-played, precisely ordered, yet totally rocking notes. I have only two of the European prog/fusion band's many albums, 1975's Shamal and 1978's Expresso II, and though I always mean to pick up more stuff (like recordings from the more psychedelic Daevid Allen–led incarnation of the band), these LPs manage to keep me utterly satisfied and endlessly inspired. French drummer/mallet guy PIERRE MOERLEN, who died in 2005, is the primary bandleader here, and he's a wizard of the kit and the vibes. He's got a wickedly creative mind for composition, and his drumming has a crispness and a lively, very human feel despite his often superhuman technique. To me this music is about as fun as it gets. Check out "Golden Dilemma," from Expresso II. There's so much to love, much of it prototypically prog: furious drums and vibraphone, swelling bass lines, catchy melodies, killer guitar solo over lethal odd-time groove. Just about all it lacks is flighty, high-minded prog lyrics — but you'll get that, in spades, on Shamal's "Chandra."
Associate Editor Billy Amendola
As usual, I'm mostly listening to my iPod on shuffle mode. This month I'm diggin' the greasy, dirty funk of STANTON MOORE on the song "Poison Pushy." Next up, I'm getting my drum fix with IAN PAICE and Deep Purple's "Lay Down, Stay Down," from Burn. What drummer doesn't enjoy being required to play a solo throughout an entire song? That's what Ian was allowed to do here. MITCH MITCHELL basically did the same thing on Jimi Hendrix's "Fire." My band used to play both of those songs back in the day, and all these years later, I still crank them whenever they come on! Next up, RUSS KUNKEL on James Taylor's track "Your Smiling Face." Danny Kortchmar on guitar and Leland Sklar on bass help make this one of those perfect rhythm-section grooves. Finally, if you can get your hands on the album Mood Ring by Jeff Arundel, particularly the tracks "Scared To Change," "Vanished," and "Someday," you'll get to experience why CHARLEY DRAYTON is considered one of the best in the business. Besides drums, Charley also played bass and guitar, cowrote three tracks, and produced the record, which came out in 2000.
Managing Editor Mike Dawson
I spent my teen years being totally obsessed with classic rock, alternative, and fusion, while my college career was dedicated to listening to almost nothing but straight-ahead jazz, Latin, and world music, with some metal and rap thrown in on the weekends. I thought I had the basic musical gamut covered in my CD collection, but what I didn't realize was that there was this incredible transition period in the 1960s — slightly before and shortly after the Beatles broke pop-rock to the mainstream — when jazz, R&B, and blues were converging to create some of the wildest, funkiest, and most swinging music of all time. (Many thanks to this month's cover artist, Steve Jordan, for inspiring me to check out this oft-overlooked era of musical exploration.) Some of my personal favorite tracks from this time period are on the two-disc set Soul Power: The Instrumentals 1960–1969, which features different renditions of James Brown's legendary backup band from that decade. Disc two has vocal-less versions of classic funk tracks like "Funky Drummer (The Classic Tambourine Mix)" and "The Chicken," plus an up-tempo live recording of "Tighten Up," which contains an insane drum break that foreshadows the frantic feel that would become popular as drum 'n' bass decades later. Disc one, however, is where you hear the band in the midst of innovation. Personal favorites are the in-between swing and straight feel in "Hold It," the bouncy shuffle of "Suds," the loose improvised Latin-funk groove of "Doin' The Limbo," and the flip-flopping swing-to-straight-8th feel of "Cross Firing."
Editorial Director Adam Budofsky
Swedish singer Lykke Li's 2008 album Youth Novels has been on my list of records to track down for a while. So when I saw today that it was finally available on emusic.com — and learned that it features Peter Bjorn And John's super-creative drummer, JOHN ERIKSSON — I got a little obsessive and decided I just had to have it for the ride to rehearsal after work. Download to my laptop: complete. Now I just have to burn it to a disc…oh, darn, no blanks here at the office. That's okay, I'll stop at CVS and pick some up and burn it in the car. Cut to CVS parking lot, I unwrap a fresh disc, turn on my computer…the battery only has 11 percent power left! Look at my watch, now I'm running late. But I'm too far gone with this idea now — gotta go for it. In the backseat of my Subaru like some weirdo, I'm nervously hoping the burn completes before my computer dies. Bingo — and with 6 percent power to spare! Pushing the speed limit on Route 3 East on the way to Jersey City, I'm imagining the look on my wife's face when I tell her this story later. "And how old are you…?" Forty-seven, baby, but I don't care, because this album is awesome. So many cool, unexpected sounds, such interesting arrangement ideas, many of them still swimming around in my head at rehearsal, as me and my band jam on some freaky funky indie space grooves. Methinks you'd be crazy not to risk looking like a weirdo when you latch on to some exciting new musical pathway. Thanks for keeping me weird, Lykke Li. (Read all about John Eriksson in the new issue of Modern Drummer, and learn more about how he gets some of those odd and beautiful sounds here.)