Sterling Campbell: Covering It All, From The B-52's To Bowie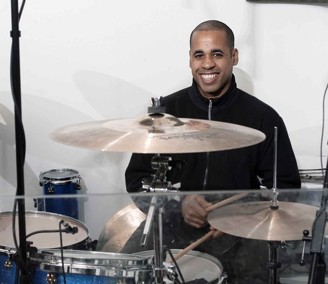 Sterling Campbell has been playing drums since he was eleven, the youngest of six boys in a household where everything from Stevie Wonder and Chicago to Elton John and Led Zeppelin could be heard—and appreciated—at any time. He graduated from the High School of Music and Art in Manhattan, but maintains that his wide tastes stem primarily from home.
When he was fourteen, Dennis Davis, glam-rock god David Bowie's then-drummer, moved into Campbell's apartment building in New York. When the two met, Davis invited the young Sterling to come along to a Bowie concert at Madison Square Garden. Seeing an acquaintance performing on the big stage inspired Campbell to become serious about drumming.
Sterling began his professional career playing with a wide variety of artists, from singer-songwriters to fusion groups to punk bands, at famed New York clubs such as CBGB, The Ritz, and The Peppermint Lounge. His big break came in 1986, when he supported Cyndi Lauper on her True Colors world tour. From the late '80s to the early '90s, Campbell played in Duran Duran, the B-52's, and Soul Asylum, among others. Then, in 1992, things came full circle when David Bowie recruited Sterling for his own band. The drummer toured and recorded with Bowie up through the end of the singer's Reality tour in 2004, which covered seventeen countries in seven months. In 2007, Campbell rejoined the B-52's and has continued to tour and record with the band through recent years.