Kevin Figueiredo of Extreme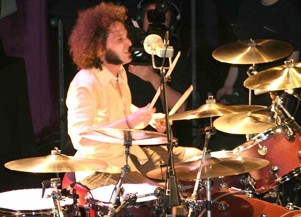 Hey, everyone, my name in Kevin Figueiredo, and I am the drummer for Extreme. I've been playing drums professionally for the past fifteen years, and my main influences include John Henry Bonham, David Garibaldi, Dennis Chambers, and Dave Grohl, among many others. I never went to music school, but I've studied with Bob Gullotti from the Fringe and with Mike Mangini. Having studied for years, when I create grooves for songs I always think, "What would Bonham do on this"? I'm a huge fan of space and holes and, most importantly, feel. There is nothing like a solid pocket in any given song. After all, it's the beat that people move/dance to. Playing the drums for the song and not for the ego! Soul + groove + pocket = people dancing = happy people!
I've had the opportunity to share the stage with many great artists, such as Robby Krieger and Ray Manzarek during the Doors' 40th Anniversary show at the Whiskey A Go Go (one of the greatest times of my life!), Nuno Bettencourt (Extreme, DramaGods), Gary Cherone, Pat Badger, Chester Bennington (Linkin Park), Slash (Guns N' Roses, Velvet Revolver) Perry Farrell (Jane's Addiction, Porno For Pyros, Satellite Party), Tony Kanal (No Doubt), Tom Morello (Rage Against The Machine, Audioslave), Dug Pinnick (Kings X), Justin Hawkins (the Darkness), Mike Mangini, and many others. The recordings I've done include Extreme's CD Saudades de Rock and their first-ever live DVD, Take Us Alive, Perry Farrell's Satellite Party, and DramaGods' Love. I have also appeared on Late Show With David Letterman, The Late Late Show With Craig Ferguson, and Saturday Night Live. I play DW drums, Zildjian cymbals, Evans drumheads, and Vater sticks. (Thank you all for your support!)
I was born and raised outside of Boston, so it's very cool to be in the band Extreme! I grew up listening to them and have always been a big fan. Interestingly enough, being Portuguese and growing up in the same town as Nuno had nothing to do with it, until later on. It's been an amazing musical experience writing, recording, and touring with them. We recorded our first record together, Saudades de Rock, back in 2007, and we toured the U.S., Europe, the U.K., Japan, Korea, and Indonesia in support of it, which was one of the best experiences of my life. One highlight of the tour was having Jimmy Page and John Paul Jones come to a sold-out show at the Astoria in London. They stayed for the entire two-and-a-half-hour show! I was hoping they'd ask me to jam—but then I woke up! Isn't that almost every drummer's dream? Advertisement
I look forward to getting back into the studio with the band and getting another record out for all of you to hear, hopefully by the end of the year or the beginning of next. I am currently touring the U.S. with the band Tantric for the summer and fall, with Adema and Burn Halo. Come check out a show!
I am very pleased to have the opportunity to post a blog on the MD site. Thank you, MD, and thank you all for taking the time to read. Rock on!
KFigg
For more with Kevin Figueiredo, including his live schedule with Tantric, go to www.facebook.com/kFigg.