Bell Gardens' Charlie Woodburn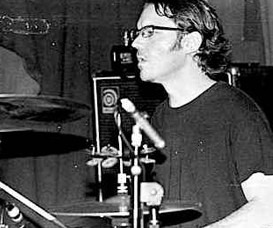 Hello, Modern Drummer readers! I'm Charlie Woodburn, and I am a session drummer in Los Angeles, California. First, I would like to say thank you to Modern Drummer for letting me add to the blog because I have been reading the magazine since I was fifteen years old. MD has helped me get through so many drumming problems, technically and mentally, over the years.
I recently did an interview with LA Weekly in which they asked me about my five favorite drummers. I have so many favorites; these were just the ones off the top of my head. I am still very inspired by Earl Harvin, Michael Jerome Moore, Colm Ó Cíosóig, Josh Freese, John Montgomery, Matt Chamberlain, Joey Waronker, Jeff Porcaro, Jim Keltner, Hal Blaine, Neil Peart, Vinnie Colaiuta, Bill Berry, Bill Bruford, Fernando Sanchez, Mike Green, David McFarland, Daniel Glass, Jon Mattox, Tom Brechtlein, and Brian Macleod. The list could go on and on….
Currently, there are many bands I play with, but my main project at the moment is Bell Gardens. Bell Gardens was formed in 2008 by my former Furry Things bandmate Kenneth James Gibson (8 Frozen Modules, Appendics Shuffle, Reverse Commuter) and Brian McBride (Stars Of The Lid, Brian McBride solo). An EP called Hangups Need Company, came out this past May on Failed Better Records.
I also play with Sara Radle, Scott Watson, the Digs, Hexham Heads, and Artichoke. In the past I have played with the Vines, Mark Burgess of the Chameleons, Meredith Meyer, Magic Wands, Brandon McCulloch, Sam Boxleitner, Sharon Temple, the Pretty Vicious, Ari Shine, Sara Melson, Pete McLeod, Men In Slippers, and Sleepmask.
Last month I signed with Soultone cymbals, and I am very happy with them. From a young age I have always liked many different types of music, and the Custom series are very versatile. They sound great at quiet volumes with songwriters and in jazz sessions, and then blast-out for psychedelic and hard rock music. They also respond very quickly; you don't have to work hard to pull the sound out of the cymbal. Weather you hit them light or hard, you get the full sound of the cymbal immediately.
Other gear I use in my setup includes Remo heads, Vater drumsticks, Pearl hardware, Gretsch drums, Roland electronics, and LP percussion. These companies have helped me get though many gigs. Thanks again, MD, and see you guys on the road!
For more with Charlie Woodburn and Bell Gardens, go to www.bellgardensmusic.com. To read Charlie's interview in LA Weekly, go to blogs.laweekly.com/westcoastsound/interviews/favorite-drummers-charlie-wood.