Andrea Vadrucci: Super Mario Bros. YouTube Video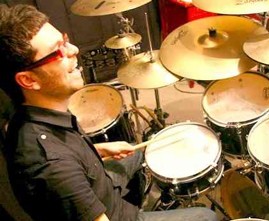 Hey, what's up, MD world! What a great honor to be here today! My name is Andrea Vadrucci (aka Vadrum), from Italy. Some of you might know me for my drumming videos on YouTube—the Super Mario Bros. theme, and classical-music drum arrangements. I would like to take this opportunity to thank you again for being part of those 42 million views!
I'd like to tell you something about my "drumming history" and what I'm doing these days. I received my first drumset when I was ten. After a few months of practice, I become part of my first (of many) bands with older musicians with whom for a few years I had many live experiences; meanwhile, I began to take lessons from a few local drummers. At fifteen, I neglected the instrument in order to devote time to my other passion: the radio. For six years I matured through experiences as sound engineer and DJ on several local radio stations, clubs, and squares in the south of Italy. In 2003 I returned to my passion for the drums, to which I became dedicated in an exclusive way.
In 2004 I began a musical adventure with Cosmica, an Italian rock band. Over a four-year span, we performed hundreds of live shows, recorded three studio albums, won several band competitions, and appeared on many Italian TV and radio shows. During this time I also had various (live and studio) musical experiences with several Italian bands and artists. I also collaborated with an acting company, Erasmus International Musical and Theatre, to record soundtracks of the musicals Footloose and Grease. In 2007 I won the Italian "Drummer Of Tomorrow" contest, and I started to gain some unexpected worldwide success on the Web and international media/press because of my drumming videos on YouTube. Advertisement
In 2008, after earning a bachelors degree in communication sciences at the University of Salento (Italy), I decided to focus my energies on studying drums and music. So I moved to Los Angeles, California, to attend Musicians Institute. After the successful completion of the one-year program (and a wonderful time spent in the U.S.), I returned to Italy and started to perform my video repertoire live for European events—including the La Rioja Drumming Festival in Spain (where I had the honor and pleasure to share the stage with some drumming legends such as Billy Cobham, Virgil Donati, Jojo Mayer, and my dear friend Dom Famularo) and the winter edition of DreamHack in Sweden, the world's largest computer festival.
I'm currently working on my first solo album, Classical Drumming, which will feature a twenty-five-piece Italian orchestra. The release is scheduled for the fall, and the album will contain eighteen energetic and fun tracks, including my popular versions of the Barber Of Seville and William Tell overtures by Rossini and "The Turkish March" and the Marriage Of Figaro overture by Mozart. This is a real dream come true for me!
Besides the CD—hard but fun—(I deal with every single aspect of the production, not just drumming), I'm planning new solo live performances in some European festivals for the summer, and I'm recording drum tracks in my own studio for an artist from the Netherlands. I recently started to offer, through my personal Web site, this kind of long-distance custom (va) drum recording service, a challenging and enjoying experience that I wish every drummer and musician could have. Advertisement
That's it, folks! I have to thank MD so much for this amazing opportunity, and I invite you to check out my Web site for info, videos, updates, and much more from my drumming world.
Ciao, belli!
For more on Andrea Vadrucci, go to www.andreavadrucci.com, www.youtube.com/vadrum, or www.classicaldrumming.com.