Ryan Yerdon of Puddle Of Mudd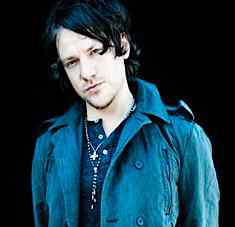 Hey, it's Ryan Yerdon from Puddle Of Mudd. Thank you to all the fans of Puddle Of Mudd and of mine for voting for me in the Modern Drummer 2010 Readers Poll. Thanks for making me one of your top five favorite rock drummers!
I wanted to give you an update on Puddle. We released our latest album, Volume 4:  Songs In The Key Of Love & Hate, in December '09 and have been touring in support of it nonstop, with no end in sight. We've had a slew of great shows, playing with bands like Papa Roach, Saliva, Chevelle, 3 Days Grace, Alice In Chains, Nico Vega, and Limp Bizkit. We recorded most of the album in L.A., and it's the first Puddle of Mudd release I played on. We used several different producers on this record, which was awesome for me, because I got a chance to pick their brains about other projects, miking techniques, other players, and recording in general. What I found is that there is no right or wrong way to do all these things, only preference.
The kit I used on the record was a Gretsch. I always seem to use Gretsch drums in the studio, even before I endorsed them. It's that "great Gretsch sound." Here's what I like for the studio: 24″ bass drum, 13″ tom, and 16″ floor tom. For snares I used a Tama Bell Brass, a Ludwig Black Beauty, and my go-to Gretsch 61/2 steel snare, which is what I also use live. My live setup is a piano white USA Custom kit, with a 26″ kick, a 14″ tom, and 16″ and 18″ floor toms. I have a matching 8×14 maple snare that I use as a backup. I love the sound of the maple 8×14 snare, but like most wood snares, it detunes after heavy hitting, so the steel is my main snare. I recently started using Meinl cymbals and couldn't be happier with them. I really like the Byzance series, and in my live setup I use 15″ Byzance hats, 20″, 21″, and 22″ medium Byzance crashes, and a 24″ medium Byzance ride. Advertisement
My advice to all up-and-coming drummers out there is to play as many shows as possible. Always stretch and warm up before playing, and use a click. Don't just lock yourself up in room practicing, but also play live because it's hard to build confidence and stamina without playing live. Play! Play! Play! Good luck with all your drumming, and for any questions look me up on Facebook.

For more on Ryan Yerdon and Puddle Of Mudd, go to www.puddleofmudd.com.