Laura Petracca of Hunter Valentine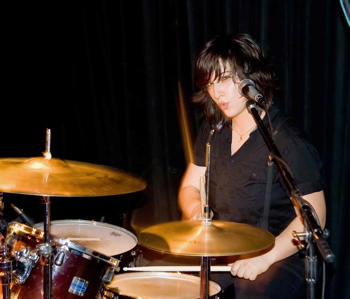 Hello, Modern Drummer readers, this is Laura Petracca, the drummer from Hunter Valentine. Our new album, Lessons From The Late Night, was just released on May 11, and I'm itching to get back on the road and finally get a chance to kick up dirt trekking across America in Vanna White. Having been born and raised in Canada, touring the U.S. has always been a goal of ours.
I've loved drumming for as long as I can remember. According to my parents, it all began in the womb. They were certain I was a boy because of how hard I kicked. Weren't they surprised when I popped out! I come from a family of drummers; my grandfather and uncle are both drummers. Sunday dinner at nonna's was more than just pasta and meatballs; it was a time for me to sneak down to the basement, where I would lightly tap on my uncle's drums. Soon enough I would be banging and bashing (mainly because I didn't know what I was doing). This was the moment my parents decided to put me in some drumming lessons. I was seven. A few years later my uncle surprised me with a paper drumkit—remember those? Unfortunately it didn't last very long, so a year later he gave me the coolest gift of all, his Pearl Export five-piece kit. This is when I really got serious about drumming. I would practice after school as often as I could—or as long as my sister could take it.
After high school I went to culinary school, as good drummers do, and learned the ropes in the kitchen. Culinary arts is another passion of mine. After two years I started to feel like a pressurized bottle and eventually realized drumming was the only way to release all of my energy. I met Kiyomi, the lead singer of Hunter Valentine, at a little dive in Toronto. We hit it off musically. She was looking for a drummer and I was looking for an outlet for my aggression—a perfect match. We started a band with two dudes and played together for a year. The dudes dropped out, soon enough we found Adrienne, and Hunter Valentine was born. Advertisement
We kicked our feet in the dirt for a while, released our debut album, The Impatient Romantic, toured it nationally in Canada, and fell in love with the road.  We say yes to any opportunity to jump in our beat-up van and tour. I currently play Slingerland drums. I love them, they have kick-ass kits and replace mine as needed!
We plan to tour quite a bit this summer, so check out our links below.
For more on Laura Petracca and Hunter Valentine, go to www.myspace.com/huntervalentine or www.huntervalentine.com.