Chuck Biscuits: Punk Journeyman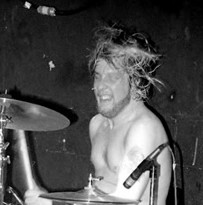 Chuck Biscuits has had a major impact on punk music. Even if you don't know his name, you've surely heard of some of the bands he's pounded the skins for: Danzig, Social Distortion, Fear, D.O.A., Circle Jerks, and Black Flag, to name a few.
Biscuits' Facebook fan page states that he is "alive and well." This update became necessary after it was reported on a blog in 2009 that the drummer had died of throat cancer. Days after the report was published, the blogger retracted it, but the delay only underscored the extent to which Biscuits' career had gone under the radar. Although he hasn't been heard from much since his stint with So-Cal icons Social Distortion in the late '90s, Biscuits' impact remains strong on a scene that he helped create.
Chuck Biscuits—real name Charles Montgomery—was born on April 17, 1965, in Canada. He first came to prominence with D.O.A., a Canadian band that, along with Black Flag, Bad Brains, and Minor Threat, is widely considered the founders of hardcore punk. After the band recorded Hardcore '81, an album often considered an epithet of the hardcore punk movement, Biscuits left D.O.A. and immediately joined Black Flag. (The position of skins-basher in Black Flag had been left open after the band's previous drummer, Roberto "Robo" Valverde, was detained by U.K. customs for visa problems after the band's 1981 European tour.) Advertisement
Biscuits learned Black Flag's songs as he traveled with the band for five months, on a tour that was cut short because of an injury sustained by singer Henry Rollins. The only existing Black Flag recordings with Biscuits playing drums are the much-bootlegged tape demos for the My War album, which provide glimpses of what was to come musically for Black Flag. Biscuits and Rollins had clashing personalities, though, and problems with their record label nudged the drummer to jump ship and join original Black Flag singer Keith Morris's influential band the Circle Jerks.
Biscuits played with the Circle Jerks for a relatively short span, until he joined Floorlords. When that band didn't work out, Biscuits planned on quitting the music industry, until mega-producer Rick Rubin invited him to join ex-Misfits leader Glenn Danzig's band Samhain (soon renamed Danzig) in 1987. Biscuits' stint in Danzig was his longest with any band thus far; he recorded the group's first four albums and one EP.
Biscuits left Danzig in 1994 over royalty disagreements. He was replaced by a pre–Queens Of The Stone Age Joey Castillo after Dave Grohl turned down an offer to join. Biscuits tried to rejoin the group but was rejected and forced to find another group to play with. Advertisement
In 1996 Biscuits hooked up with another big act from the punk scene, joining Social Distortion between the recording and release of the band's White Light, White Heat, White Trash album. Biscuits is credited on the album's liner notes, although Deen Castronovo's playing was featured on the record.
Chuck Biscuits has been around the punk world and back. He's remained quiet since his days in Social Distortion, and we can only hope to hear his influential playing again soon. After all, the drummer is still alive and well. Become a fan of Chuck Biscuits on Facebook here.