Billy Cobham Update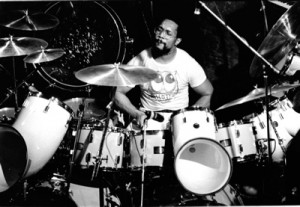 Billy Cobham is a living legend of the drumset, revered for his ultra-dramatic, muscular, and bar-raising work with fusion pioneers the Mahavishnu Orchestra. Since the '60s Cobham has appeared on over 300 recordings, including those by pop and rock icons like Peter Gabriel, Jack Bruce, Bob Weir, and James Brown, and has released more than thirty-five albums as a leader.
Cobham was born in Panama. The members of his family made a living there by constructing drums and timbales, and some of Billy's earliest memories are of himself playing timbales. His family moved to New York when Billy was three, and by the time he was eight, he was already performing on stage. His involvement in drum corps as a youth led him to a rudimental approach (which he later mastered and famously expanded on). In 1959 he was accepted at Manhattan's High School Of Music And Art, and after graduating he joined the army, where he further developed his approach to the instrument.
Once out of the army, Cobham began his performing career in earnest, with jazz artists such as Horace Silver, George Benson, Ron Carter, Thad Jones, Stanley Turrentine, and Kenny Burrell. Around that time Cobham formed Dreams, a jazz-rock group that featured brothers Michael and Randy Brecker. He also began recording with Miles Davis on sessions that eventually appeared on such classic albums as Jack Johnson, Live-Evil, Get Up With It, and Big Fun. Advertisement
In the spring of 1971, Cobham was asked to join the Mahavishnu Orchestra, whose combination of classical virtuosity, jazz spontaneity, and rock power shook the music world. Billy's drumming, laced with devastating technique and keen wit, brought him worldwide attention and placed him on the top of all of the major readers' and critics' polls. He also became known for his huge setups, which came to feature unusual tom positioning and multiple bass drums.
Before the original Mahavishnu Orchestra disbanded, Cobham recorded his first solo album, Spectrum, which became a surprise international hit. He continues to tour, record, and inspire today.