Eric Seats <i>Next Great Drummer</i> Show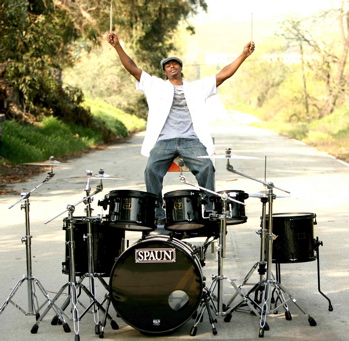 Hello all in MD land! I'm Eric Seats, drummer, producer, and creator of the Next Great Drummer show. A little bit about my background: I got my first taste of drumming from my dad, Leroy Seats, who is to this day my favorite drummer ever. I had my first set at the age of two, and played better than I could even talk.
I attended the Los Angeles County High School for the Arts and played mostly jazz and big band tunes. After graduating I received a full scholarship from the Dolo Coker Foundation and attended Cal Arts Institute. My first "real" tour came in 1996 with R&B artist Montell Jordan. That's when I made the choice to pursue music as a full-time career.
Since then I have had the pleasure of touring and recording with artists such as Patti LaBelle, the late Aaliyah, Beyonce and Destiny's Child, DMX, Jon B., Lalah Hathaway, En Vogue, and many more. I have met so many drummers along the way who ask how I got started. That was the inspiration for creating a show where drummers could show their skills and get great advice from people in the business. Exposure is the key to success a lot of times, and NGD is a great way to gain just that! Advertisement
This show started in June of 2008, and has grown so much since then—and continues to grow to this day. We here at NGD are a very dedicated group with huge dreams, visions, and plans that include assisting in the exposure of drum playing to young men, women, and children across this nation and to assist them in furthering their drum careers.
Our first event was held in the parking lot of Spaun Drums (which is the drum company I endorse), and there was an enormous turnout—the beginning of something great! I knew deep down inside that you couldn't go wrong helping others! Each participant has come back numerous times, and improves his or hers drum skills every time.
We plan on traveling overseas with NGD to search for the Next Great Drummer! Is it you? Thanks for reading! For more visit www.nextgreatdrummer.com.