Cliff Leeman: The Embodiment Of Tasteful Drumming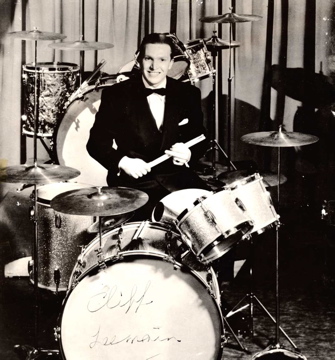 "I try to play behind the soloist. I'd rather play a four-bar chase chorus with a horn, something with different tones and sounds, than get into a rudimental solo," said Cliff Leeman, one of jazz drumming's most tasteful artists.
Never the showman—therefore not well recognized by the public—Leeman concentrated on making the band sound good and the players feel comfortable. Greatly admired by musicians, Cliff Leeman was popular in big band circles for his marvelous timekeeping and effortless swing.
Leeman was born in Portland, Maine, in 1913, studied locally, and began his career in Kansas City with Murphy's Musical Skippers. Over the years he performed with many prominent jazz players including Eddie Condon, Red Norvo, Jimmy Rushing, Joe Venuti, and Teddy Wilson. In 1936 he made his mark as an important big band drummer with the Artie Shaw band, recording such great hits as "Back Bay Shuffle" and "Begin The Beguine." After leaving Shaw, he worked with Tommy Dorsey, Charlie Barnet, and the Woody Herman band, where he remained until 1944. Advertisement
By the mid-'40s Leeman had pretty much settled into the small-group mold, playing with John Kirby, Ben Webster, and Don Byas. He also toured Europe and recorded with Bobby Hackett and Wild Bill Davidson. The later years of his career were spent in radio and recording studio work, and as drummer on the Perry Como, Jack Benny, Steve Allen, and Your Hit Parade TV shows.
A great admirer of Zutty Singleton, Jo Jones, and Sid Catlett, Leeman possessed a style that was the embodiment of good taste combined with an artistic, musical approach. He's also been credited with popularizing the Chinese cymbal within the big band idiom. "I played that 25″ Chinese cymbal all through the big band years," said Leeman in an MD interview. "It became something of a trademark of mine. I used it with Shaw, Dorsey, and Charlie Barnet."
Though quite capable of playing outstanding solos, Leeman had little desire to do so. Quite content remaining in a totally supportive position, his refined sense of swing and rock-solid time uplifted every band he worked with. Cliff Leeman passed away in 1986 at the age of seventy-three. Advertisement