Chad McKinsey of The Suicide Denial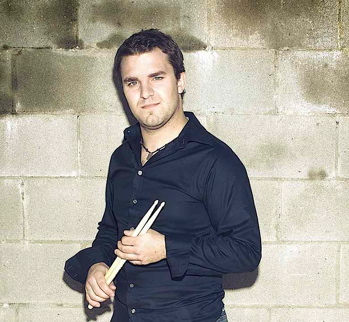 Modern Drummer…here we are at last. You, and me…. My name is Chad McKinsey, and I'm the drummer for the band the Suicide Denial. This makes me go back and think of the very first time I received any sort of percussion instrument, which was a Yamaha DD-50 drum pad system, for Christmas in seventh grade. I totally annoyed the crap out of everyone else in that house hold rockin' out to some Tantric and whatever else I had in my Walkman—yeah I said it, Walkman. They had no idea how that was only the beginning. I had been in band since fifth grade, but snare, bass drum, and cymbals are fun for only so long at that age. So that was it, that little DD-50 started my passionate love affair with music and everything percussion.
Along with growing up and getting my first Tama Swingstar kit when I was a freshman, I started practicing along to the stylings of Chicago, Dream Theater, Tower Of Power, various country, any Buddy Rich I could handle, and pop music to which I've already forgotten. And amidst all of that I picked up my very first Modern Drummer magazine.
Where had I been! Nobody ever told me that there was a magazine about drums and other drummers! I seriously made sure that a subscription to Modern Drummer was in included in my birthday list every year. So after reading a few MDs, I decided that it was going to be one of my life's goals to be featured or have something to do with the magazine. I know I'm only writing a blog, but hey, I'm still doing something! Give it time, my friends; I will make it in print at some point. Advertisement
So I think right about now is where I start shamelessly start plugging my band and my accomplishments…. The Suicide Denial is a band and revolution that I just so happen to drum for and be a part of. We have a CD called I'm Sorry LA, which is actually free for download on our Web site listed below.
My fellow bandmate, who's name also happens to be Chad, and I have a blog at our site that you can read to keep up on what's going on with the band.
I'm currently playing Tama drums and hardware, Evans heads, Vic Firth sticks, and Sabian cymbals.
For more on Chad and the Suicide Denial, go to www.thesuicidedenial.com or www.myspace.com/thesuicidedenial.