The Greats: Carl Palmer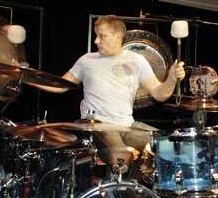 Carl Palmer started out as a jazz drummer in his early youth, gravitated to rock in his teens, and burst onto the international scene in the late '60s as a member of English proto-progressive rock bands Atomic Rooster and the Crazy World Of Arthur Brown. But his place in the drumming pantheon was secured in the '70s, when he became one third of Emerson, Lake & Palmer, the first prog-rock supergroup.
ELP's eponymous 1970 debut album matched pop-song melodies with classically inspired structures. Radio listeners were excited by songs like "Lucky Man," while legions of budding prog-rock musicians were inspired by the instrumental precision of "Knife Edge" and Carl's solo vehicle, "Tank." The band's combination of virtuosity and over-the-top theatricality gave the young, technically oriented drummer the opportunity to stand out both within the music and as one of the most entertaining drum soloists ever.
"ELP was basically an instrumental group doing adaptations of classical pieces, arranged for three people," Carl told Modern Drummer. "I not only had to keep time, I had to play a lot of unison passages with the keyboards, to make it sound as fat as possible. We were a band, but a band in which I couldn't really do anything but project as an individual." The band went on to record several groundbreaking albums, including Tarkus and Brain Salad Surgery, before calling it quits in 1978. Advertisement
In the early '80s, Carl joined another supergroup, Asia, whose single "Heat Of The Moment" hit the top of the charts in the U.S. "We were a prog rock band that played pop tunes," according to Palmer. "I was able to fulfill my dream of playing songs. Our first album sold four and a half million copies right out of the box. Besides the pop songs, there were songs like 'Wildest Dreams,' which was a four-minute prog-rock song condensed for radio. That was a monumental album for me."
A number of other projects have followed, including albums by P.M. and 3, ELP reunion albums in 1992 and 1994, and a tour in 1998. Much of Carl's work between 1969 and 2001 is highlighted on an excellent compilation called Do You Wanna Play, Carl?