Al Jackson Jr.: The Impeccable Groover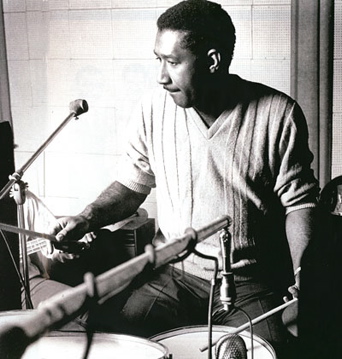 As a member of the house band at famed Memphis recording studio Stax, Al Jackson Jr. played on all of the classic hits that the label released during the heyday of southern R&B in the 1960s. Jackson and the powerful Stax rhythm section, who also released a series of legendary instrumental records as Booker T. & The MG's, provided a relaxed yet invigorating groove that helped launch the careers of such luminary artists as Otis Redding, Sam & Dave, Eddie Floyd, Rufus Thomas, Albert King, Isaac Hayes, and Wilson Pickett. Jackson was also influential—as both drummer and co-writer—in the massive success of soul singer Al Green, who recorded many of his hits across town at trumpeter, bandleader, and producer Willie Mitchell's Hi Studio. Many other non-Stax releases by artists like Aretha Franklin, Bill Withers, Leon Russell, and Rod Stewart also featured Jackson's impeccable groove.
Al, who began playing drums with his father's big band at age five, had become a local legend in Memphis before he became a steady session drummer for Stax. Prior to signing on to a weekly salary at Stax, Al spent several years in Willie Mitchell's popular band. So when the drummer was recruited by the MG's in 1962, he commanded a lot of respect from his young bandmates. As a result, Jackson often became the final voice when determining the best feel, tempo, and grooves for the daily sessions. As they said around Stax, Al was relied on to "put a pocket on it" in order to transform a good song into a great one. And for nearly a decade, the drummer did just that, cranking out solid, creative grooves every day.
Jackson's drumming was powerful, groove-oriented, and deceptively simple. He didn't play a lot of fills, and he often avoided extraneous cymbal crashes to prevent washing out the arrangement. His beats were always perfectly tailored to each tune, with enough unexpected creativity to keep the vibe fresh. Meanwhile, his sound was spacious, clean, and strong, which helped transmit the drummer's deep pocket across the airways and onto stereos throughout America. Advertisement
Unfortunately Al Jackson's career was cut short in 1975 when he was shot six times in the back by an unknown gunman.