Steve Smith: The Ultimate Multi-Dimensional Drummer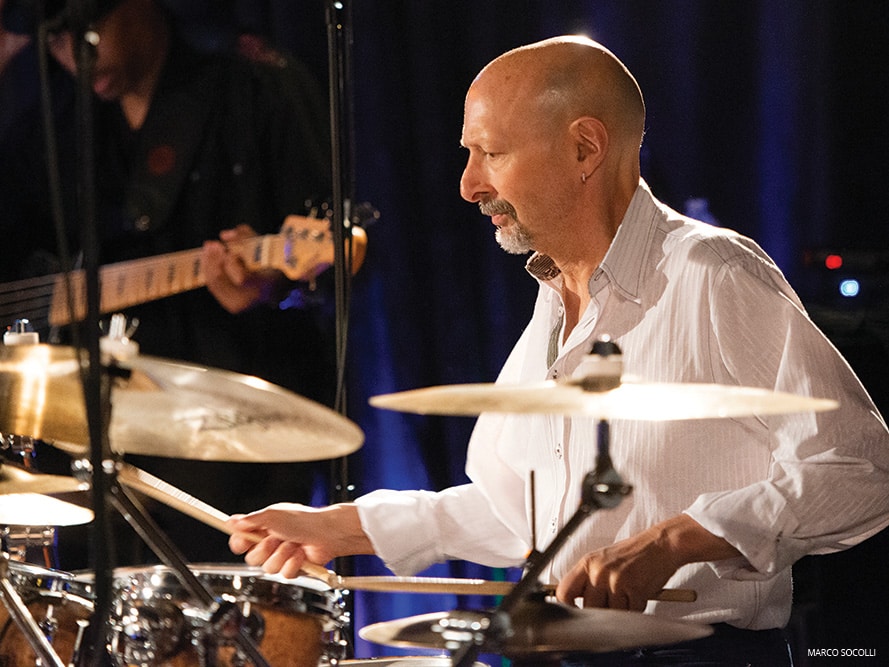 Over the past thirty years, Steve Smith has scaled the heights of pop-rock success with Journey, has been widely acknowledged as a true master of the instrument, and has performed with the greatest jazz artists of his generation—including in his own group, Vital Information.
Since the age of nine, Smith has been interested in learning drums, not just playing them. From the fourth grade through the twelfth, Steve studied with Bill Flanagan in Massachusetts. His love of many types of music, from Count Basie and Oscar Peterson to Jimi Hendrix and Deep Purple, helped prepare him for his next musical quest, at the Berklee College of Music.
After a year with Lin Biviano, a trumpet player who had worked with Buddy Rich and Maynard Ferguson, Smith left Berklee to join fusion violinist Jean-Luc Ponty's band—just before he was to graduate. Steve recorded one album with Ponty, Enigmatic Ocean (alongside guitar god Allan Holdsworth), and then toured for about a year. Smith then auditioned for both Freddie Hubbard and Montrose, and, incredibly, was offered both gigs. He chose Montrose because the direction was more rock 'n' roll. Montrose opened for Journey on several occasions, and in '78 Steve was offered their drum chair. Advertisement
The timing was perfect career-wise, as the group was on the cusp of becoming an international sensation. Steve went on to record several chart-topping albums with Journey. In 1983, Smith was given the opportunity to record with his then new group, Vital Information. It became his primary focus when Steve's time with Journey came to an end in 1985. But Vital has meant even more than that to Smith. It's been the perfect vehicle for the drummer to express his personal muse.
Smith has gone on to have a successful career as a solo artist and session musician. He's recorded with Mariah Carey, Andrea Bocelli, and Bryan Adams, as well as jazz greats such as Steps Ahead, Ahmad Jamal, Dave Liebman, Larry Coryell, Mike Stern, and Randy Brecker. In 2001, Modern Drummer magazine named Steve one of the top twenty-five drummers of all time.
In recent years, Smith has continued to expand his musical and rhythmic vocabulary. He has thoroughly researched the history of the drumset, as he ably demonstrated in his award-winning 2003 DVD, The History Of The US Beat. Smith has also been doing extensive research on Indian music, and its effects are beginning to become apparent in the master drummer's approach. Advertisement
No drummer has shown more consistent growth on the instrument than Steve Smith. It will be exciting to see where he'll take his playing next.