The Greats: Carmine Appice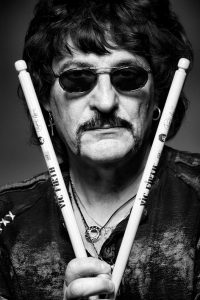 Power, showmanship, and personality are what make Carmine Appice one of rock's most notable players. His aggressive, double-bass, hard-hitting style was unquestionably unique when he emerged in the mid-1960s with Vanilla Fudge. With the Fudge's trippy treatments of well-known pop songs, Appice helped bridge the stylistic gap between psychedelia and heavy metal—establishing him as the first "power rock" drummer. His influence has since reached across generations of drummers, including such greats as John Bonham and Tommy Lee.
After the Fudge came Cactus, in which Appice honed his aggressive style into a more cohesive form. This approach continued in subsequent groups like Beck, Bogert & Appice, King Kobra, KGB, and Blue Murder. Carmine also served noteworthy stints in the bands of guitarists Ted Nugent and Pat Travers, as well as metal-god vocalist Ozzy Osbourne. Carmine's greatest commercial success came during his seven years in Rod Stewart's band. The drummer's perfect combination of heavy rock power and pro feel helped to propel the singer to the top of the charts in the late 1970s. Carmine also contributed as a songwriter, penning the monster hits "Do Ya Think I'm Sexy"? and "Young Turks." A highlight of Stewart concerts was Carmine's show-stopping drum solo, a true drumming event.
Besides his performing career, Appice has made major contributions to the field of drum education. His seminal work Realistic Rock—the first serious book on rock drumming—supplied the missing link for kids excited about the music they were hearing on the radio. It also helped bring a legitimacy to rock drumming that hadn't previously been acknowledged by the public. That book, coupled with countless drum clinics and camps, made Carmine rock's first unofficial ambassador of education. Advertisement
Carmine's career is exceptional if for no other reason than its longevity. He was the first rock drummer to appear alone on the cover of Modern Drummer magazine, in the April/June 1978 issue. Thirty years later, in April of 2007, he was the cover subject again. Over those thirty years, Carmine has never been off the scene.