George Wettling: The Ultimate "Chicago style" Accompanist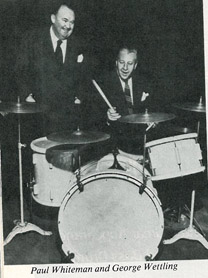 George Wettling was one of the leading proponents of the early "Chicago style" of jazz drumming. A tasteful, imaginative, unobtrusive player, Wettling quickly built a reputation as the ultimate band drummer.
Wettling took the conceptual and stylistic elements of Baby Dodds and brought them to the next level. The predominant "four beat" bass drum always remained a Wettling trademark, but his style also included the addition of color and shading, a firm yet supple time feel, and a delicate touch. Though the few solos he took were inventive and well-conceived, blending with the band, as opposed to standing apart from it, was his major musical concern. Though unjustly underrated among jazz historians, George Wettling was an important link between the ground-breaking work of Baby Dodds and the more advanced approach taken by Dave Tough and Gene Krupa.
Wettling was born in Topeka, Kansas, in 1907 and was raised in Chicago, Illinois. He began his professional career in 1924 with a host of local bands, and made his first recordings with the Jungle Kings in 1927. Shortly after, he took Dave Tough's place with the Chicago Wolverines. Advertisement
Wettling arrived in New York in 1935, and over the years worked with Louis Panico, Wingy Manone, Artie Shaw, Bunny Berrigan, Joe Marsala, Red Norvo, and Eddie Condon. Though unfairly stereotyped as a small-group player, Wettling was equally at home in a large-band setting, performing with big bands led by Charlie Barnet, Johnny Long, Woody Herman, and Paul Whiteman. Wettling also held the drum chair with ABC Radio from 1943 to 1952, though his attachment to jazz prompted him to also lead his own band around the New York area throughout the early '50s. Wettling died in New York City in June of 1968.