Dave Lombardo: Slayer's Patron Saint Of Speed Drumming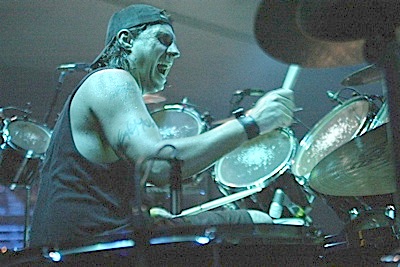 Born in Havana, Cuba, into a family that moved to the States in the mid '60s to escape communism, Dave Lombardo was perhaps destined to be attracted to extreme music. The drummer most readily cited as the king of thrash bashing, Lombardo simply set the bar for speed and intensity for nearly every player who came of age in the era of speed metal. If Slayer has always been the people's metal band, Dave Lombardo is speed drumming's patron saint.
But Lombardo has never been satisfied with holding historic significance. He is constantly looking around musical corners, and, especially since his initial departure from the band that made him a star, he's hungered for and played in situations that seriously pushed his abilities and imagination.
Whether it was his tenure with genre-bending post-Slayer band Grip Inc., his stint with the avant-metal aggregation Fantomas, or his duet project with DJ Spooky, Dave has confounded expectations, while retaining an appeal to fans of high drumming drama. In 2001, Lombardo returned to Slayer, bringing with him loads of recently received inspiration and not an ounce of lost energy. The initial result of the reunion was the 2006 album Christ Illusion, Lombard's first with the band in fourteen years—and a Grammy winner at that. World Painted Blood followed in 2009. Dave Lombardo—a historic drummer, always in the moment. Advertisement