"Papa" Jo Jones: Drumming's Fearsome Father Figure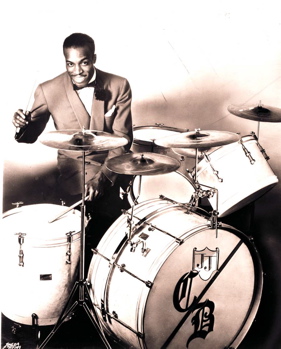 It's been said that modern drumming made its first step towards maturity when Jo Jones arrived in New York in 1936 with the Count Basie band. Within a few years, "Papa" Jo became the idol of hundreds of drummers across the country who emulated the style he perfected.
Jonathan David Samuel Jones was born in Chicago in 1911, and he began working with regional bands in the late 1920s. But it was within the framework of the Basie band from 1936 to 1948 that he would make his indelible mark on the entire jazz drumming world. With Basie on piano, Freddie Green on guitar, and Walter Page on bass, what came to be known as "The All American Rhythm Section" set the standard for all such sections to follow.
More than any other drummer in history, Jo Jones developed the hi-hat into an instrument of great rhythmic and tonal variety. His hi-hat style has been characterized as swinging and driving, but never obtrusive. Early recordings with the Basie band clearly reveal a smooth, uplifting hi-hat that emphasized a longer, more open sound. The result was a feeling of great forward momentum that lent itself perfectly to the band's character and rhythmic flow. Advertisement
In addition to his historic achievements with the Basie band, Papa Jo Jones worked with Jazz At The Philharmonic, Illinois Jacquet, Lester Young, Billie Holiday, Teddy Wilson, Lionel Hampton, Benny Goodman, Ray Bryant, Milt Buckner, Coleman Hawkins, and his own trio and sextet. In August of 1985 he was inducted into the International Jazz Hall Of Fame in Kansas City, Missouri. He died two weeks later, on September 3.
Perhaps Jo Jones' greatest accomplishment was to point drummers toward a more musical way of thinking about the instrument. His contributions placed him high among the great jazz drummers of all time, and earned him the respect of musicians from every school.
How Papa Played
Jo Jones used to say that he knew nothing of technique, but rather "played the people and the experiences" that shaped his life as a person as well as a musician. Still, he did employ "tricks" that were all his own. In the January 1984 MD cover story on Jo, author Chip Stern described seeing the master play late in his life. Advertisement
"Jo was playing with a rocking, heel-to-toe, toe-to-heel motion, and he seemed to be pushing the beater into the head. He was striking and muting in the same motion. In this way, he was able to shade, accent, and color, getting more melody and pitch from that one drum than most players could get from a set of concert toms. His cymbal playing was even more remarkable. He approached his cymbals gingerly, playing them with a broad, sweeping motion. His stick seemed to be rising as soon as it made contact, which accounts in part for his crystal-clear articulation and his immaculate control of overtones and build-up.
"In truth," Stern continued, "what Jo Jones put down for close to sixty years is timeless: his sense of space and restraint—knowing when to jump in and when to lay out; the endless array of press rolls, rimshots, and timbres that he elicited from his instrument; the way he drove a band; and the hypnotic power of his soloing. Whether demonstrating show- stopping cross-sticking technique or simply making quarter notes swing, his music is not dated. It is stylish and classic."
Jo himself put things differently. He said, "Always start basic and you'll never go wrong. After you have control of your instrument, you can do whatever you wish. Just remember the difference between the words 'play' and 'beat.' When it comes to percussion instruments, you don't beat the drum; you play the drum." Advertisement
Discography/Videography
Jo  Jones: Classic Drum Solos And Drum Battles Vol. 2 (DVD),
The Everest Years
Count Basie: The Complete Decca Recordings; The Essential Count Basie Volumes 1, 2, & 3
Lester Young: Lester Young Meets The Jazz Giants
Coleman Hawkins: The Hawk Flies High
Art Tatum: The Tatum Group Masterpieces Vol. 6
Duke Ellington & Johnny Hodges: Back To Back: Duke Ellington & Johnny Hodges Play The Blues