Timothy B. Schmit's Herman Matthews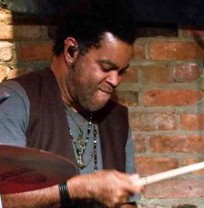 Howdy, MD readers. It's been a long time, and I think I may have to reintroduce myself. My name is Herman Matthews and I play drums. For the past seven years I've been laying down the foundation for the legendary singer Tom Jones. You might want to ask your parents or even your grandparents about Sir Tom. He's one of the most soulful vocalists ever to come from Wales. I've also worked with Tower Of Power, Kenny Loggins, the Isley Brothers, Richard Marx, Bonnie Raitt and Taj Mahal, and anyone that pays. Hey, you know the deal—for the right amount of money I'll come play for you! I've also released a solo CD, Home At Last, a blend of folkie soul, funk, and gospel with a bit of second line.
Right now I'm on the road with Eagles bassist Timothy B. Schmit supporting his new CD, Expando. The Expando Band hit the road October 14, with a very short time to get up to speed. We played shows in Los Angeles, Nashville, Chicago, and New York. By the time we hit the Bitter End in NYC and found our stroke, the run was over. Now we're out for two weeks on a seven-city tour. After that, Timothy has to get back to that other band of his. So stay tuned, and we'll catch up on the road.
For more info, go to www.hermanmatthews.com.