Gene Krupa: The Man Who Made It All Happen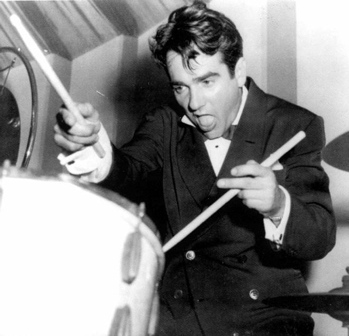 If anyone can be considered the founding father of modern drumset playing, it's Gene Krupa. Krupa legitimized a collection of instruments known as the "traps" at a time when both the instrument and its players were barely tolerated. He led a revolution against this prevailing attitude that put the drumset on the musical map.
Gene brought many "firsts" to drumming. He was the first drummer to be recorded with a bass drum. He was the first to popularize the extended drum solo. And he was the first jazz musician to become a matinee idol, appearing in over twenty feature films. But while Gene was singly responsible for bringing the drums out of the background and into the center-stage spotlight, he was equally important for his musical contribution to jazz, and his influence extends to this day.
Gene Krupa was born on January 15, 1909, and raised on Chicago's South Side. From 1915 through 1929, Chicago was a major center of innovative music, attracting top instrumentalists in the emerging style known as jazz. While working as an errand boy in a local music store, Gene became immersed in the music, ultimately gravitating toward the drums. He landed his first drumming job at the age of thirteen, and he never looked back. Advertisement
In 1935, after working with a variety of bands in Chicago and New York, Gene became a member of what would soon become the hottest band in the nation—The Benny Goodman Orchestra. His recording of "Sing, Sing, Sing" with the Goodman band still stands as one of the great drum features of all time.
Gene left the Goodman band in 1938 to lead his own big bands and small groups. In 1951 he became a star member of Norman Granz's famed Jazz At The Philharmonic touring shows, which featured some of the best musicians of the period. In 1954, he partnered with Cozy Cole to open a drum school in New York City. In two years, the school averaged 135 to 150 students per week, expanding Gene's influence into the drumming community at the grassroots level.
After a heart attack in 1960, Gene focused on leading trios and quartets. He retired in 1967, but returned to the stage three years later. One of his last and most memorable performances was a reunion concert with Benny Goodman, Teddy Wilson, and Lionel Hampton at Carnegie Hall in 1973, which took place shortly before Gene's death from leukemia on October 16 of that year. Gene Krupa was unquestionably the first drummer in history to attain a position of global renown. As such, he is still revered and respected by drummers the world over.