Age Of Evil's Garrett Ziff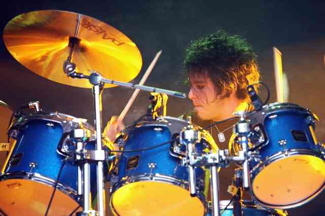 To all my fellow drummers out there, my name is Garrett Ziff, I'm twenty years old, and I play drums in the metal band Age Of Evil. First let me share a little of my history. I started playing drums back when I was nine years old, the same time that my younger brother Jordan decided to pick up the guitar. After years of playing together, my brother and I wanted to take things a bit more seriously. Our best friends, brothers Jacob and Jeremy Goldberg, decided they wanted to pick up their own instruments and start playing along with us.
In the summer of 2006, we decided it was time to make an album. So we hit the studio in September of that year to record our debut album, Living A Sick Dream. By January of 2007 the album was complete, and as far as we knew it was just going to be a waiting game from there to see what would happen and how far it was going to take us.
A buzz started to spread about us in Germany, where we were reviewed in countless magazines and were interviewed many times. In June of that year, when we didn't think any of the European summer festivals had slots available and all hope was lost, we got an email that would change our status from local to international band. Two weeks before the Bang Your Head Festival in Ballinger, Germany, we were invited to perform at the event's warm-up show. We looked at this as a once-in-a-lifetime opportunity that we couldn't pass up, so we went out there with only one goal—to rock our asses off and make sure that this wouldn't be the last Germany saw of Age Of Evil. After delivering a very well-received performance at the warm-up show, we were asked to play the main stage of the festival, before the first band was scheduled to go on. We played, we delivered, we conquered! Advertisement
Since then we've been back to Europe multiple times, where we've gotten to share the stage with some of our all-time favorite bands, such as Judas Priest, Heaven And Hell, and Queensrÿche.
For a band whose members ranged between sixteen and nineteen at the time, we felt like we were definitely going in the right direction. Last year we joined forces with German-based indie label Evil Eye Entertainment. In the summer of 2009, we packed our bags and flew to Frankfurt, Germany, where there was a flat waiting for us to reside in for two months. While in Germany we hit the road and did some touring with Jon Oliva's Pain, played some festivals, rocked a gig with Tesla, and played a few dates with Soulfly. After touring, we entered the studio in Frankfurt to record the Get Dead EP, which was released last month.
I'm just trying to get my name out as a drummer, as well as the band's name out there to drummers and musicians all over the world. So when and if you get the chance, please check us out.
Thank you for taking the time to read my blog, and I assure you all, you'll be hearing from me again in the near future.
Rock on!
Garrett