Rymo of Slightly Stoopid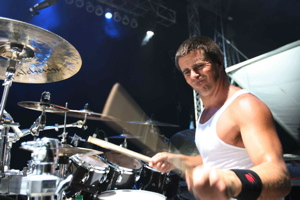 Hello, Modern Drummies! My name is Rymo and I'm the drummer for Slightly Stoopid. I'm on tour at the moment, writing from backstage at Cleveland's House Of Blues. We'll be doing a few more U.S. shows and then heading to Amsterdam for a festival show at the Cannabis Cup.
We've had a great year co-headlining amphitheaters with Snoop Dogg, with Stephen Marley as main support. Over the summer we played shows around the U.S., including Red Rocks in Colorado, the Gorge in Washington, Shoreline in San Francisco, Penn's Landing in Philly, Comcast Center in Boston, Cricket Amphitheatre in San Diego, and more. What an incredible feeling to be in front of crowds that size. The energy is amazing!
I feel very fortunate and blessed to be able to live the dream of being a full-time player in the game. Before and since the Blazed And Confused tour, we've been doing tons of club gigs around the U.S., and we did a run in Europe for three weeks, covering about seven countries. The band is focused, and the shows have reflected that. Advertisement
Slightly Stoopid is proof that if a band works hard and performs consistently, audiences will continue to grow. Some of my favorite bands are ones that have stood the test of time. There are ups and downs in life that will test your strength, and ultimately the ones who are able to weather the storm will rise above the rest.
Three important keys to this are persistence, humility, and consistency. It takes persistence to get out of the local dive in your hometown. Humility is necessary in life, because you never know who is watching you. And finally, consistency in performance night after night, no matter what. We're looking forward to enjoying a break for the holidaze and then getting into studio mode for the early part of 2010. I'm excited to get back into the studio after having toured so heavily. It's a nice balance from hotels, buses, planes etc.
Lots of things are happening outside of Slightly Stoopid too. I have a new solo CD out now, called Structure and Flow, available on CD Baby (link below). It's been in the works for several years around and between tours and shows, and it features tons of drums and percussion, with didgeridoo, berimbau, synths, Chapman Stick, and more. It's an all-instrumental album in the world fusion vein. Advertisement
Agent 22 will be working on a new album as well this winter. Tom Griesgraber is an amazing Chapman Stick player, and we've been working together since the late '90s. The album will be instrumental progressive rock fusion world happiness. Check our Web site below.
I feel very fortunate to have been chosen to be featured in the new book called Sticks 'N' Skins, which is available now at bookstores nationwide. It's a coffee-table book with large pictures and short bios on each player. There are about 500 or so of a who's who in the drumming world. Very cool.
Enjoy!
Rymo
For more on Rymo, including "random babbling," visit www.myspace.com/rymo1. To check out his Structure And Flow CD, go to www.cdbaby.com/cd/rymo. For more on Agent 22, visit www.agent22.net.