Percussionist Ramon Yslas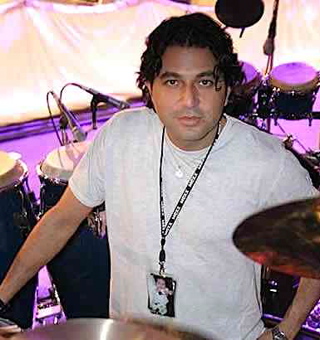 Hi, MD readers! I want to say hello and fill you all in on what I'm currently up to. I've been touring the U.S. with Colbie Caillat, promoting her latest CD, Breakthrough. After that I'll be going to Europe with the band early in 2010.
A little bit about me: I've played percussion with Christina Aguilera, Stevie Wonder, Patti Labelle, Juan Gabriel, Maxwell, and many others. I've been fortunate to record on Grammy award–winning albums with Christina and recently with Luz Casal, Pepe Aguilar, and Peter White.
I have my own CD out as well, Radio, which is a blend of rock, Latin, funk, and other styles. I also co-lead Sinverguenza with Tariqh Akoni, featuring Wally Reyes Jr. on drums.
Thanks for listening! Much love,
Ramon
For more on Ramon, go to www.sinverguenzamusic.com or www.yslas.com.