David Ashkenazy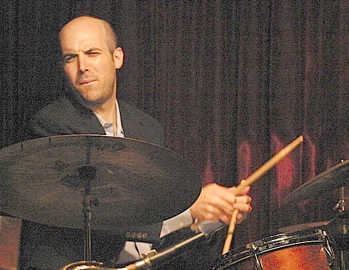 My name is David Ashkenazy. I'm a drummer and professional musician, originally hailing from Southern California, and now successfully transplanted and living in Brooklyn NY. The big city life and cold winters certainly took a little getting used to, but now I can say I absolutely love it here. Living in NY and playing every day is a blessing because the scene here is so amazing with every different flavor of music imaginable and so many great musicians. Some of my recent work includes some interesting projects both as a leader and as a sideman.
Building on the success of my last record, Resonation (Posi-Tone), I just recently released a new CD this summer called Out With It, featuring Joel Frahm (tenor sax), Gilad Hekselman (guitar), and Gary Versace (organ). In this band we play some obscure jazz tunes like Bill Frisell's "Strange Meeting," Wayne Shorter's "Children Of The Night," and Frank Foster's "Simone," some original compositions of mine, as well as my arrangements of the Beatles tune "I Want You (She's So Heavy)" and the Yiddish folk song "Bokserboym." I really think all the music on Out With It came out great because it's always fun working with an amazing group of high-caliber musicians–especially when everyone is pushing each other to play their butts off.
I also lead a group called the Ashkenazy Collective, which is comprised of Australian multi-reedsman Adrian Cunningham and acoustic bassist Scott Ritchie. In addition to playing original compositions by everyone in the group, the collective has been exploring folk music from around the world, including Yiddish melodies as well as themes from Spain, Mexico, Israel, and Eastern Europe. The Ashkenazy Collective is set to tour the Pacific Northwest and Northern and Southern California this coming February, and we're planning to record and release a new CD some time next year. Advertisement
Another project I'm involved with is a musical venture simply called The Trio. This group features one of Belgium's finest young tenor players, Robin Verheyen, as well as New Orleans—born Daniel Foose on acoustic bass. The trio is exploring standards and original compositions in a very open way. The music is sometimes swinging, sometimes straight, and sometimes free.
Of course, in addition to all these projects I have been playing as a sideman with a Gypsy Rock group called the Red Light Cinema as well as gigging with various vocalists, Klezmer bands, wedding bands, and everything in between.
Meanwhile, because I believe the path to better musicianship is that of an eternal student, every day I try to learn a little bit more about music and how to improve my craft as a drummer. Accordingly, I believe it's really important to keep focused on study and practice, no matter how busy things get. So I make sure to practice or work on new compositions for my groups every day. Advertisement
I've had the honor of studying with some of my favorite drummers on the planet. While living in L.A. I studied with Jeff Hamilton, Joe Labarbera, and Peter Erskine, all of whom are masters of their craft. Since moving to New York I've had the opportunity to study with jazz great Kenny Washington, the amazing all-around drummer and educator Steve Davis, and Indian tabla master Samir Chatterjee. Each of my teachers has imparted to me different gifts. The deeper I explore the avenues of self expression on the drums, the more I realize how infinite this language of music is.
Even though life as a musician is not always consistent and comfortable, I feel so fortunate to wake up every day and do what I love. For more on David, go to www.davidashkenazy.com, www.ashkenazycollective.com, or www.posi-tone.com.