Blue Man Group's Jason Mackenroth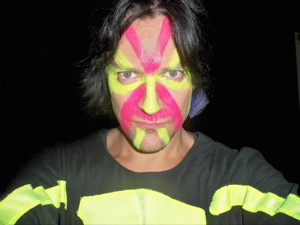 Hey, Modern Drummer readers, it's a pleasure to have this opportunity to bring you up to date on what's going on with me since the Rollins Band/Mother Superior days. After releasing a CD and touring for my own band, Mack, between 2005 and 2006, I've been playing drums with Blue Man Group at The Venetian in Las Vegas.
Late last year, I received a phone call from the music director at Blue Man Productions in New York asking if I'd be interested in auditioning for the drumkit position on this year's leg of the Blue Man Group Megastar World Tour. Long story short, I got the gig for the spot and have been touring the better part of this year as kit player and will be out of the country until the end of October. This year's Megastar Tour kicked off with a sold-out show in London's O2 Arena in February. For those familiar with the theater show, this show is a bit different. The band consists of three Blue Men and eight musicians including a male and female vocalist.
A major highlight of the experience so far has been touring and performing with two of the original Blue Man Group musicians and composers, Ian Pai and Larry Heinemann. Playing drums in this band differs substantially from my previous power trio bands for obvious reasons. Our show did an eight-week run at Casino Lisboa in Lisbon, Portugal, in March and April of this year. Immediately following, we hit the usual U.K. markets on the tour bus, playing arenas averaging 5,000 people a night, and again hit London's O2 Arena for three shows in two nights. After a short break at home in late May, we were off to Tel Aviv, Israel, for eight shows! That's probably my favorite place I've been so far outside the U.S. The people were great, the audiences were fantastic, and it's an absolutely beautiful place. Advertisement
Then it was off to Taipei, Taiwan, for seven shows in the latter part of August. Then we were off to Brazil for three weeks in September, and then Canada on the tour bus in October. We'll start in B.C. and head east, hitting all the major markets to the far end of Ontario over a period of three weeks. See complete list of tour dates below.
In the meantime, I've been developing the material to follow up my 2005 debut CD. I already have more than enough material for a new release. When I get home this fall, it'll be time to cull the appropriate folks and get on with the recording and production. I'm shooting for a 2010 Wrecked Records release. Again, I'll be handling all the lead vocals and drums as well as the writing.
Rock it!
For more on Jason, go to www.myspace.com/jasonmackenroth.