OneRepublic's Eddie Fisher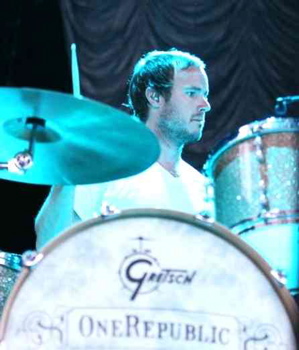 Hello, everyone, this is Eddie from OneRepublic, and I'm on my way to L.A. for a photo shoot. As of today we're almost finished with our sophomore album, Waking Up. I'm getting pretty excited about it. I find it's way more rhythmic than our first album, Dreaming Out Loud. It has a fresh feel with huge drums, a lot more strings, and pulsing tempos–all in all, a reinvented sound.
We spent the last six months in the studio, and through the endless days, the exhaustion, the sleepless nights, and the countless hours of playing our instruments we have composed what I feel to be our greatest accomplishment yet. I've been playing drums for the last thirteen years, and I found some of my inspiration for this album from influences like Peter Gabriel, Steve Gadd, John Bonham, and a little bit of Taylor Hawkins.
I'm very fortunate to be able to play drums for a living, and without having these people to look up to I would probably be serving pizza and greeting children in a creepy mouse costume. Our album will be out in November, so be sure to check it out. A little piece of advice: Be persistent, and don't be afraid to follow your dreams! Advertisement
For more on Eddie and the band, visit www.onerepublic.net.