Ray LeVier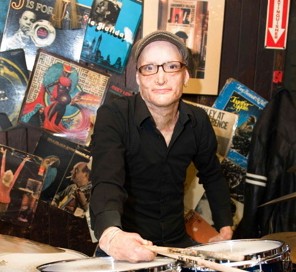 Hello, MD readers! Ray LeVier here–drummer/producer from Nyack, NY. It's been a busy year, between the everyday rhythms of life, creating a new living space, surgery, touring, and completing my debut CD, Ray's Way, on Origin Records. The album features Mike Stern and John Abercrombie on guitar, Ned Mann and Francois Moutin on bass, Dave Binney on sax, and Joe Locke on vibraphone. I also wanted a impeccable mix, so I hired the very talented Rich Tozzoli (Al Di Meola, David Bowie) to mix the record and master it at Sterling sound.
I wanted to make sure things were done right every step of the way. It was my dream (literally) to specifically put together this group of amazing musicians from different backgrounds and who never played with each other before. My intent was to make a cohesive album and have the drums play more of a supportive role, rather than having it sound like a drum project. We tracked all the songs in one day and did it live with no overdubs, keeping it organic, with no more than three takes for each song. We had a great time in the studio that day, everyone fluctuating between intense focus, excitement, and lots of laughs.
My drumming started at the age of eleven, when my dad bought a used four-piece red-sparkle Slingerland set for my sister. She lost interest and gravitated towards the piano. Eventually the kit ended up in the basement. I dragged it out again when a friend down the street started taking lessons and taught me a simple rock groove. No sooner had I mastered this groove than I was in a camping accident that would change my world as I knew it. With severe burns over 65% of my body, I spent seven months in a burn unit. Advertisement
While in the hospital I kept thinking about the drums. I wanted to play so badly. My parents encouraged me all the way and just kept saying, "Do what you love in life, and everything will fall into place for you." I just kept practicing, sometimes eight or twelve hours a day. My philosophy then and today is work hard and persevere.
Last winter we recorded KJ Denhert's new CD, Dal Vivo a Umbria Jazz, recorded live at the Umbria Jazz Festival in Italy. There were some really magical moments that we captured on this CD, and I'm really happy with how it came out. This is the fifth CD I've done with KJ, and she's been a pleasure to work with for the last eleven years. We've been touring this summer on the West Coast, playing the Rochester Jazz Festival, and then going to Italy for the Umbria Jazz Festival once again in July.
My new CD, Ray's Way, is available at iTunes, at Amazon.com, and on my Web site, www.raylevier.com. Thanks for reading my blog, and feel free to send me an email from my Web site; I'd love to hear from you. Also check out www.kjdenhert.com. Advertisement