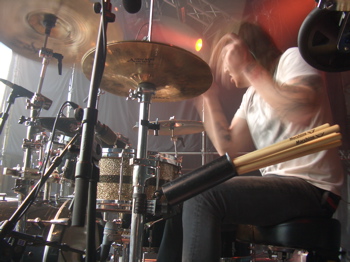 First of all, I want to thank Modern Drummer for giving me the opportunity to write this blog. It's truly an honor.
We recently finished up our fourth studio album, Artwork, and in my opinion it's one of the best the Used has ever done. The album will be released on September 1, and as of now we have one single out, "Blood On My Hands," so give it a listen…if you dare.
We started writing Artwork about seven months before we went into the studio. We wrote the album at soundchecks, on the bus, at Quinn Allman's house, at Bert McCracken's house, and everywhere in between. Quinn and I also rented a house out in California for a few months. We soundproofed the walls, but that didn't work. I brought an acoustic kit that I got to use once before a neighbor busted in and threatened us. After that little incident we did all of our writing in that house with a Roland V-Drums set.
Anyway, we went into the studio in June, and by that time we were 100 percent prepared and confident. Most of the album was recorded in Los Angeles at the Lair. We also did some recording in San Diego, and all of the drum tracks were recorded at NRG Studios in West Hollywood. Before we started recording we did about two weeks of preproduction at the Lair, to fine-tune the songs.
Jepha Howard and I would walk to NRG every day (about two miles) and I would listen to the demos to hear what sounded good with the songs and what didn't. When we got to the studio and before I would start recording I would sit at a practice kit and go over the songs I was going to record that day. I did this so I could be warm and confident before recording (I like to warm up before shows and recording for at least an hour). Recording this album I used Zildjian cymbals, Vater sticks, Gretsch drums, and a lot of different snares (like Dunnett and Tama, just to name a few). We wanted a big, live drum sound for this record, and I think we accomplished that. I spent about eight hours a day, about four songs each day, and in the end I did seventeen songs, eleven of which made the album. The rest will be for B-sides and things like that.
Artwork has a very dark and live sound with a definite pop sensibility. Every song is different from the one before it, but they all have a darkness to them that makes the album flow really well. I think this is the most diverse album the Used has ever done.
Recording the album was a great experience for me–the entire process was a relaxed one, and every day, no matter what we were doing, we were having fun. Everyone involved with the making of the album was great to work with, and I'm very fortunate to be playing with Bert, Quinn, and Jepha. We're proud of what we've done, and I can speak for the entire band when I say this is the most excited we've been about an album in a long time. So now we start touring the world once again, and that makes me happy.
Again, thanks to Modern Drummer, and thanks to anyone who reads this.
Check out the Used at www.myspace.com/theused and www.theused.net.