Scarlet Sins' Elie Bertrand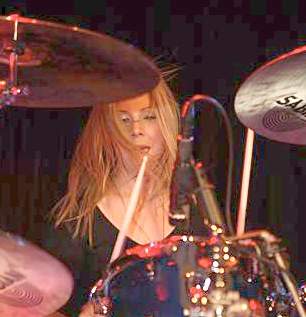 Hello, Modern Drummers! I'm writing to you live from the T Dot, a.k.a. Toronto. I just came back from a wicked rehearsal. We just finished writing a few songs. I'm so stoked to go into the studio! Second album on the way, woohoo!
Let me introduce myself. My name is Elie Bertrand. I play drums in a hard rock/metal band called Scarlet Sins. I've been playing ever since my parents got me my first drumset at the age of five. Luckily, they're also musicians, so they've always supported me and introduced me to different styles.
Throughout the years, I learned various styles (funk, blues, rock, Latin, and all that jazz), but always loved rock. I got my first professional gig at the age of fourteen. It was an old rock and blues band. We played everything from the Rolling Stones to Z.Z. Top, Janis, and Susan Tedeschi. It was awesome. I had so much fun with them. I also filled in on some corporate gigs. Advertisement
I finally met my girls on MySpace (thanks, Tom, I owe you one!) when I was seventeen. Right after prom, I moved from my hometown, Montreal, to join Scarlet Sins on 07-07-07 (lucky). Since then we've released our debut album, which was really well received all around the world; made it onto the 2009 Grammy Awards short lists four times; opened for Mötley Crüe; shared the stage with several talented female and female-fronted bands such as Vixen, Iron Maidens, and Benedictum at Seattle's Power Box Festival; and toured a lot here in Canada. Now we're writing our second album, getting ready to go back on the road and conquer the world! Yay!
I play a black-sparkle six-piece Pearl Reference kit. I love this baby! (I got a 20×22 kick–OMG! Best decision ever. Thanks to my drum tech, Johnny Rowe, for the idea!) I also use Sabian cymbals. I change my setup all the time, but right now I use an AAX XPlosion 18″ (my favorite crash ever), 14″ AA Metal hats, a 10″ HHX splash, a 19″ AA medium thin crash, a 20″ AAX Dark crash (so heavy, so sweet), a 19″ V-Vault crash, 14″ AA Rock hats, and an 18″ HHX Chinese. Also, I use the Evans drumheads (G2 coated and EQ3) and Los Cabos drumsticks (3A white hickory).
Hit me up on MySpace, Facebook, Twitter, or whatever else…and we'll talk about drums! Thanks for reading my blog. It's an honor to be featured in Modern Drummer!
Take care, drummer freaks! TTYS!
Love,
el
For more on Scarlet Sins and Elie Bertrand, go to www.scarletsinsonline.com, www.myspace.com/scarletsins, or www.myspace.com/eliedrummer.