Zach Eichenhorn of Adam's Castle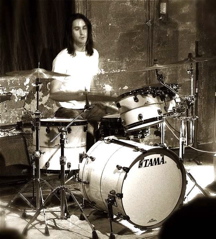 MD!!! Well, here it is, your official update on the world of Zach Eichenhorn. I'm staying busy in 2009 doing what I love: playing drums! As I write this, I am traveling over the rolling hills of Pennsylvania on tour with one of my bands, Adam's Castle. For those who don't know, Adam's Castle has reunited after a four-year hiatus and will be on tour through the end of May. We'll be hitting the Midwest and East Coast in support of our new album, Deathless, available from Triple Down Records. I'm absolutely thrilled to be back on the road for a few weeks, and can't wait to see all the familiar faces we haven't seen since we last toured in 2003.
Aside from being on the road, I should also mention that I play with two other groups, Gold & Gunmetal and Red Sea Station. I'm thankful that I get to collaborate with some amazing musicians in each of these projects. I've found that music is good to you if you are true to yourself, first and foremost. And I'm proud to say that both debut albums are being well received. My biggest heroes are the people who take the time to listen and absorb art. So for those of you that care, I have to say, Thank you.
Lastly, I gotta say that the new Mastodon and Grizzly Bear albums are in heavy rotation on my iPod. Can't get enough of either record. Too bad I won't get to see either of these amazing bands on their current tours, but duty calls. Till next time…get inspired. Advertisement
Cheers,
Zeko
For more on Zach Eichenhorn, go to www.myspace.com/adamscastle08, www.myspace.com/goldandgunmetal, www.myspace.com/redseastation, or www.tripledownrecords.com.