The Parlor Mob's Sam Bey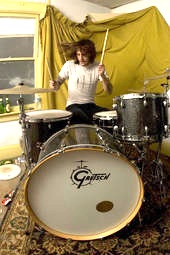 Hello, MD readers! My name is Sam Bey, and I play the drums in a rock 'n' roll band called The Parlor Mob, from Asbury Park, New Jersey. We're signed to Roadrunner Records, and our debut album is called And Your Were A Crow, and it's in stores everywhere!
Right now I'm gearing up for another U.S. tour that is taking us to a lot of great cities, including some of my favorites: Portland, San Francisco, and Austin. The week before tour is usually a really crazy time for me. The way that my band works is we break up all of our band responsibilities individually. Most of mine fall under the category of tour preparation. So I've been running around like a maniac buying trailer tires, getting the van a tune-up, and making sure a lot of our gear is ready to go–all while trying to get my personal stuff done like packing, laundry, time with my dog and girlfriend, paying bills, etc.
While cruising around this past week doing my pre-tour errands, I've been pretty much exclusively listening to Mastodon's new record, Crack The Skye. My favorite track right now is "The Last Baron." It's amazing how talented those guys are. We played a show with Brent Hinds' side project Blood Vessels in Atlanta, Georgia, and that's how I originally got into Mastodon. Not much else has made it onto my stereo lately besides Crack The Skye, but a few honorable mentions will go to Jay Reatard's Blood Visions and the new Fleet Foxes record. We just flew out to St. Louis for a radio show, and I'm sort of scared to fly, but the first track on the Fleet Foxes record, "Sun It Rises," really helped me calm down right after we took off. Advertisement
I want to say thanks so much to everyone for reading, and to Modern Drummer for having me on their site. I hope to be able to come back and chat again. I also want to give a shout-out to everyone at Gretsch drums and Pro-Mark drumsticks and say thanks for their continued support!
Check out The Parlor Mob at www.myspace.com/theparlormob or www.roadrunnerrecords.com/theparlormob.