Apples In Stereo's John Dufilho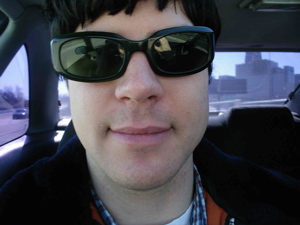 Hello, modern drummers, my name is John Dufilho, and I play for Apples In Stereo. I also recently recorded a CD with my friend Rhett Miller (Old 97's singer/songwriter) at Pleasantry Lane in Dallas. The studio is owned and run by Salim Nourallah, another great songwriter/singer I've been fortunate enough to play and record with.
Working on Rhett's CD was an amazing experience. I would come up with a drum part, and then Salim and Rhett would lie and tell me that every idea I had was genius. Ha! But seriously, working with them was a great time, and I didn't want it to end. Salim's studio partner, Rip Rowan, should be given an award for capturing drum sounds. He collects them and keeps them in a jar outside Pleasantry Lane.
Although I write, sing, and play guitar, drums were my first love. I can't remember a time when I wasn't pissing off my neighbors. I prefer style over technique any day, but it's a beautiful thing when they come together. Here's one of my favorite examples: Advertisement
[jwplayer config="Custom Player" mediaid="10628″ logo="https://moderndrummer.com/wp-content/uploads/logoplayer.png" logo.hide="false" logo.position="bottom-right" logo.link="https://moderndrummer.com"]
I'll be recording and traveling around with the Apples this year, as well as with my other bands, I Love Math and the Deathray Davies. Please come out say hello!
John D.
For more on Apples In Stereo, visit www.myspace.com/theapplesinstereo.