Lewis Nash: Jazz's Most Valuable Player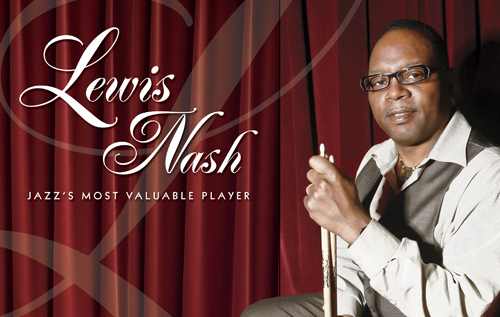 by Ken Micallef
Swing, swang, swingin'! Splang-a-lang! Snap, crackle, pop! These well-worn words go a long way toward describing this thing of ours we call jazz, but they also illustrate the style of one of the idiom's modern masters: Lewis Nash. Nash has consistently proven why he's the first-call drummer in a myriad of splang-a-lang-driven situations. If the rhythm is swinging, chances are Lewis is providing the pulse.
Nash can boast one of the lengthiest discographies in jazz. He's appeared on more than 400 recordings, with contemporary stars and historical trailblazers alike. Among the masters the fifty-year-old Phoenix native has been recording with since the early 1980s are Betty Carter (Lewis's debut New York gig), Clark Terry, Joe Henderson, Dizzy Gillespie, Benny Carter, J.J. Johnson, Tommy Flanagan (as a ten-year member of his trio), Joe Lovano, Oscar Peterson, Sonny Rollins, Milt Jackson, Ron Carter, Jackie McLean, Wynton Marsalis, Gary Burton, McCoy Tyner, Toshiko Akiyoshi, Don Pullen, and Diana Krall.
The drummer has also recorded three solo albums, Rhythm Is My Business (1989), It Don't Mean A Thing (2004), and Stompin' At The Savoy (2005). As you can guess from those titles, Nash is all about tradition. But he insists that he is no "museum piece," that the style of jazz drumming he purveys is as modern as any great art form can and should be. He believes you don't have to search for something "new" to create great drumming and great jazz. Advertisement
In the weeks prior to this Modern Drummer cover interview (his second, after a dual cover with Roy Haynes in the 1990s), Nash recorded a new album with country legend Willie Nelson, played a week at New York City's Village Vanguard with pianist Cedar Walton, toured Japan with his own all-star sextet, and recorded a forthcoming CD with his quintet (which includes pianist Renee Rosnes, bassist Peter Washington, trumpeter Jeremy Pelt, and saxophonist Jimmy Greene) for his Happy Beat label. He's also continuing on in his roles as a music director for Lincoln Center and as an instructor and artist in residence at The Vail Jazz Workshop, The Thelonious Monk Institute of Jazz, and Switzerland's Generations Jazz Workshop. And he's recording an album of duets with saxophonist Steve Wilson and will be touring in support of Mosaic.
In all his endeavors, whether it's playing live or teaching a class of laymen about the essentials of rhythm, this perpetual sports fan always keeps his eye on the ball. Where some see a complicated chart, he hears the music of the spheres. Where some mean to express themselves, he means to express the music. Lewis Nash: jazz's MVP.
MD: You are known for your urbane, polished swing feel and great attention to detail. Yet you can absolutely burn in a more rambunctious style, as on Branford Marsalis's Random Abstract or The Blue Note 7's Mosaic. There is a dichotomy in your playing that many drummers may not be aware of. Advertisement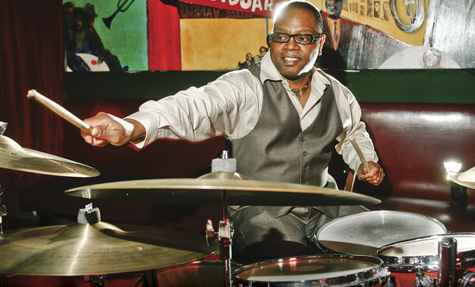 Lewis: It's all about context: the musical environment, the other players, the music itself. Considering all that, I always look at what's required to make the music work. I am a huge NBA fan. When a player, in basketball or music, changes environment, you have to make adjustments; then styles or approaches to the music can be different. I adjust to play different styles of music while maintaining my identity. You do that by thinking music first. I don't think about my approach consciously; I'm thinking about the music first.
MD: Given that, it seems you gravitate toward performing with jazz masters more than toward playing on some young lion's recording.
Lewis: It is true that I've appeared in a lot of situations with the classic jazz players: Sonny Rollins, Tommy Flanagan, and McCoy Tyner, for example. But I have learned as a musician how to be a chameleon. Take Random Abstract. I've heard that record played on the radio and the DJ announce the drummer as Jeff "Tain" Watts. People get fooled by the context; they hear the way someone is playing in that context and they assume it must be this person.
I'm not trying to sound like different people when I play. My goal is to keep a consistent thread of musicality. I come to the gig as prepared as I can be: I've practiced, I've worked on my technique, and I have a lot of experience to draw from, so when I arrive at a situation I am immersing myself in that music. I don't worry if I'm going to sound like myself. When I play with McCoy Tyner, there are certain things I have to do to make his thing work. Then when I play with Hank Jones, I can't play the same way I play with McCoy. I'm looking for the threads that run through their music and give it a certain essence. Advertisement
MD: Your pacing is very unhurried. It really aids the melody.
Lewis: I'm striving for a certain kind of relaxation that is a part of the best swinging jazz. That's a big goal. A lot of it is experience, and a lot of it is playing with the kind of players who bring that sensibility to the stage. People think of McCoy Tyner as being one of the more powerful piano players in jazz–he has a strong left-hand style and he can play hard. There is a lot of energy there. But it's a misconception that, because of that energy, McCoy pushes, that he's on top of the beat. The first time I played with McCoy I realized how wide his beat is. I had to really relax my approach to the beat so that everything felt comfortable. With some players that play really on top, you almost feel like you're holding on. It's like a runaway horse carriage. But with McCoy I had to take a deep breath and relax more.
MD: So you're always gauging the musicians you play with.
Lewis: Absolutely. That's a big, big thing. If you're going to make them sound like the best version of themselves, then you're going to have to really check out what they do and how they do it.
When I do drum clinics, I have a theme I call the MVP mind-set. The MVP on a team isn't necessarily the person who scores the most points or is the most exciting on the floor; rather, he or she is like the glue that makes everything else work more smoothly. I try to bring the MVP mind-set to the drumset. I hear different things going on around me from the musicians on the bandstand, and I try to enhance that–which in turn helps the whole band and the soloists shine even more. You can't be selfish; it's a team concept. I try to be that person who makes the team click on all cylinders. Advertisement