Jon Wilkes from The Red Jumpsuit Apparatus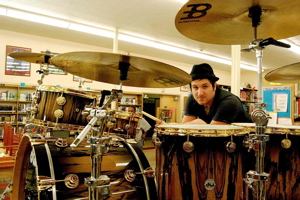 Hi, I am Jon Wilkes and I am a drumaholic! I'm from Jacksonville, Florida and play with a band known as The Red Jumpsuit Apparatus. It is 2:23 a.m. and I am in Sydney, Australia just finishing a show as I write this blog for MD. We are over here on the Soundwave Fest promoting our new record, Lonely Road.
I got my start on drums at the age of nine, when my dad caught me playing on his tambourine with pencils. Later I graduated from Douglas Anderson School of the Arts, had a free ride to FCCJ, and dropped out to hit the road. I spent many years studying jazz, boss nova, all the Latin feels, and fusion, and jamming with a lot of heavy cats. One, for example, is the bass soloist Jon Reshard. If you do not know who he is then you should!
For as long as I can remember I've been slamming the skins doing rock 'n' roll, but my influence, feel, and style come from other types of drumming. I believe you will find the future of drumming in the past, so I studied players like Tony Williams and Max Roach. Before that, since the age of fourteen, I was hard at work trying to make a living only playing drums. At one point I was in eight to fifteen bands and did a lot of studio work and paid gigs. Then our singer Ronnie Winter (who's also a great drummer) gave me a call, and I've been on the road with him, Duke Kitchens (guitar), Matt Carter (guitar), and Joey Westwood (bass), all killer players, collectively known as The Red Jumpsuit Apparatus. Check us out at www.redjumpsuit.com or www.myspace.com/redjumpsuit. Advertisement
I forgot to mention my other addiction problems–the "click," odd time signatures, polyrhythms, Meinl cymbals, Modern Drummer, and DW drums. Hit me up and let's talk drums sometime, at www.myspace.com/jonwilkes. And if you get bored like me then check out some of my live videos: www.youtube.com/watch?v=IeBlEnLn060 www.youtube.com/watch?v=22sEv7TRL1s.