Mitch Mitchell: Drummers Weigh In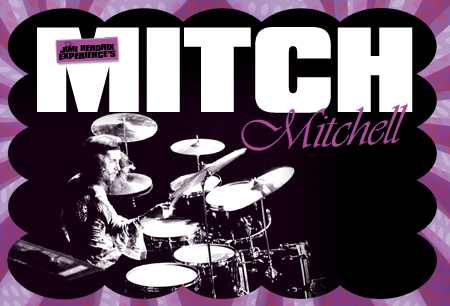 by Mark Griffith
Mitch Mitchell was not alone in blending jazz and rock drumming styles, but he may have pushed the combo further than anyone who came before him. Whether you call it fusion, jazz-rock, or rock-jazz, Mitch's playing–most notably with The Jimi Hendrix Experience–mixed the improvisational ingredients and the rhythmic sense of swing from jazz with the audacity and power of rock 'n' roll. This combination meant that the art form of drumming would never be the same. Jazz drummers now had access to an expanded vocabulary that went beyond the traditional language of jazz and swing drumming. But for rock drummers it meant something different: The heightened sense of interplay that jazz drummers used to inspire and push soloists were now being utilized in their world. This expanded the drummer's role beyond that of a timekeeper, and the music benefited from the excitement that emanated from the drums. Here a number of noted drummers provide further insight into Mitch's influence.
Tony Braunagel (session drummer)
I met Mitch in London at Polly Palmer's flat. Polly was in Family, and he and Mitch were good friends. Polly had a small studio in his basement, where we were recording publishing demos. One day Mitch dropped in. Of course I was in awe of who he was, but if you ever met Mitch, you know that he struck up a sparky conversation with just about everybody he met. He was a very friendly chap. I still use one of his lines today when I need it. Once, when we were in the pub having a beer, this is what he told me: "Open your wallet and, repeat after me, 'help yourself.'"
In fact, that certainly spilled over into his playing personality, as you listen to those classic Hendrix tracks–the whacked-out stumble shuffle on "Manic Depression," the fast boogaloo on "Fire," and the opening fill on "Little Wing" that every drummer who has ever heard that song has copied and used every time they had a chance. It was something you waited for if you ever played with a guitarist that copped Hendrix. Mitch created one of the earliest forms of fusion on the drums, and to this day his work stands out. Advertisement
Later on in Los Angeles, we had the chance to have a two-drummer band with some other famous rock sidemen. We were rehearsing at The Alley in NoHo, and Mitch didn't like the kit they had provided for him, so I told him he could play one of my Gretsch kits. We went to my house and picked it up, and, of course, he loved it, as it was a round Badge kit and it reminded him of his early years in London. He coveted the kit and wanted to take it home, and every time I spoke to him or saw him after that he asked about the kit. I still have that kit today, and every time I look at it, it reminds me of Mitch and his great smile.
Frankie Banali (Quiet Riot)
Mitch Mitchell brought the influences of jazz, R&B, and pop together with a great deal of feel and inventiveness that is still unequaled in popular music. He managed to chart a drumming course through the vastly uncharted waters of the music of Jimi Hendrix. No one had ever written or played music like the Experience, and no drummer had ever played drums in such a definitive way as Mitch Mitchell did. Case in point: "Purple Haze," "Manic Depression," "Fire," "If 6 Was 9." The list goes on and on. There could have been no other drummer better suited to the music Jimi helped to create.
It took a very special drummer to be able to understand the music of the Experience and how to complement it, enforce it, interpret it, and create it, and Mitch never lost sight of his style and individuality. When I was growing up, the three drummers that set the high-water marks were Mitch Mitchell, Ginger Baker, and John Henry Bonham. Of the three, Mitch was the creative leader. Advertisement
Billy Ward (session drummer)
When I heard "Are You Experienced"? it completely reinforced my view of drumming as being capable of passion and nuance while still driving the big train. Mitch's fluidity on the kit (all those triplets!) showed the obvious influence of Elvin Jones, whom I have always loved. Mitch bridged some elements of jazz into rock. This new music by Jimi and the Experience was some of the freshest rock to date. I saw Mitch play with Jimi Hendrix in '68 (I think it was '68…or '69?), with Soft Machine opening, along with the Joshua Light Show. (Hah! Those were the days.) He left behind a lovely mark on the art of pop drumming.
Zachary Alford (The B-52's)
I remember listening to Hendrix when I was seven years old, although it wasn't until I was probably fourteen that I appreciated it. It wasn't something I really practiced to–it was just something I sat back and listened to in awe. Mitch Mitchell was completely different from any other rock 'n' roll drummer I was listening to at the time. John Bonham played a completely different way, and Ringo played a completely different way. Charlie Watts played differently with the Stones, and there was Keith Moon with the Who, but Mitch was totally different because he was a wild man and was furiously attacking the song, but at the same time you could hear that he had all this jazz technique. He complemented Jimi's guitar playing so well, and it wasn't too busy.
My favorite Mitch Mitchell tracks include "Angel," "Hey Joe," "Long Hot Summer Night," and "1983… (A Merman I Shall Turn To Be)," because Mitch would incorporate a sort of marching beat into the groove as a texture. It wasn't just percussive; it added to the whole painting that Jimi was making because you would have all these press rolls in there that would serve as sustained notes. "Up From The Skies" off Axis is another favorite. I mean, how many times do you hear a rock song from that era played with brushes? And the groove is so deep! It's a good example of the Experience exercising restraint to great effect. That first accent off the downbeat of the intro still kills me. Advertisement
But what I loved the most was just his abandon. He was just not afraid, and he was always going for it. Mitch's influence on me can't be overstated. The kind of fills he played, especially in a song like "Hey Joe," have become textbook, part of the lexicon, as far as I'm concerned. It's heartbreaking to know that he's no longer with us, but when I think of how happy he must have been to have the career he had… If you could choose what your career was going to end up being, I couldn't imagine having one that could outdo that one.
Aaron Comess (Spin Doctors)
When I was very young, I got into all the Hendrix records. I vividly remember listening to them when I was twelve and thirteen and playing along to them. What struck me the most about Mitch was the obvious jazz influence in his rock playing. It was like Elvin Jones playing rock. He was definitely one of the first guys to put that style into rock. What also struck me was the interplay between him and Hendrix. He wasn't your typical "just lay down the groove" drummer. He was really right there with Hendrix. They were totally connected. It was also a real band. A lot of people think of it as Jimi Hendrix and his sidemen, but it's unfortunate that the music business treated them like that over the years, because both Mitch and Noel Redding should have been rich. They were up there with the Stones and the Beatles and Zeppelin as some of the most influential rock groups ever.
Mitch gave the rock drummer more of an opportunity to stretch out and not be thought of as just a guy in the background. With that said, it always felt organic to the music, even though he was a guy who played a lot of notes. It never felt like he was overplaying because it was just part of the musical sound of the Experience. He's a huge influence on rock drumming and changed the way it was played. He kind of paved the way for some of the fusion guys in the '70s. I love his playing. To this day, I love those records. Every time they come on the radio, they sound so good. Come on, "Fire"–what drummer hasn't played that song? It's one of those rock drum songs that everybody plays and nobody gets right. Nobody gets the nuances. He had a very definable style. Advertisement
John Riley (jazz great)
I heard Mitch on the Hendrix records, and there was a wild passion in his playing that I didn't hear from the other rock drummers that I was listening to at that time. In fact, I was only listening to rock drummers then. I had heard some jazz drummers and I recognized that there was something jazzy about the way Mitch played, especially on the tune "Manic Depression," which I immediately realized was his version of Elvin Jones.
There was this rolling, kind of triplet thing in his playing that I didn't hear so much in Bonham or in Danny Seraphine with Chicago or Bobby Colomby with Blood, Sweat & Tears. This was a different kind of flow and feeling in the time, and there was an earthy rawness to it that was captivating–a primal element that was somehow really sophisticated but at the same time seemed totally organic. When Hendrix changed bands, I think Buddy Miles brought in more of a funk element and maybe more stability than Mitch had, but I liked the marriage of Mitch's playing with Jimi's most.
Gregg Bissonette (Ringo Starr & His All-Starr Band)
Mitch Mitchell is one of my all-time heroes. I've always loved his drumming and I was a huge Jimi Hendrix and the Experience fan. Years ago, during a Nashville NAMM Show, I was at one of the booths and I saw Mitch, and he was so approachable. We talked for a while and then I mentioned to him that I was going to be doing a drum clinic at a store near the convention center later that evening. He said, "I'll be there," and he came. Advertisement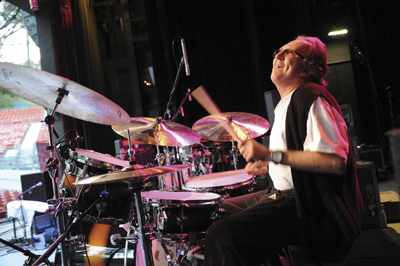 It was a Mapex clinic and there were several other drummers, so there were a bunch of kits on stage. I was up there and there was another kit next to me, and I thought, I've got to go for it. I had this thing with my iPod where I had click track on one side and music on the other, and a guitarist by the name of Doug Bossi had recorded a play-along for me, singing and playing "Manic Depression" on the left side. My brother Matt was playing bass, and there were no drums, just a click. So I said, "Ladies and gentlemen, I have to make mention that in the audience we have one of the greatest drummers and innovators who has taken great jazz drumming and fused it with rock drumming. From the Jimi Hendrix Experience, Mitch Mitchell!"
Everyone gasped. And I said, "Mitch, is there any chance you'd come up on stage"? He said, "Sure, mate, sure." He sat behind another kit and I told him about the version of "Manic Depression" that I had. He said, "Great, then I'll follow you–you follow the click and the music." And I said, "Great, Mitch, because I've been following you for twenty years." We played, and it was amazing. He played it like he had played it yesterday and every day before that.
Another story is that Steve Vai said he had a great idea for a radio show called Great Drum Performances of the Modern Era. He said to pick ten drummers to do it, so one of the drummers I asked was Mitch. In interviewing him, I asked, "Was 'Manic Depression' a first take"? And he said, "It would have to be a first take because we were in and out of that studio so quickly. I remember going into a pub the night before and hearing a drummer play a jazz thing in four, and I thought that would be a great beat to kind of nick to put into a 3/4 groove for this 'Manic Depression thing.'" And they recorded it the next day. Advertisement
Mark Schulman (Pink)
Although I never had the luxury of meeting Mitch Mitchell, he was one of my formative influences when I was just learning to play drums. I remember attempting to play "Manic Depression" at nine years old–what an undertaking.
What struck me about his playing, even back then, was his musicality. He was aggressive, grooving, and so uninhibited. He really combined the freedom and flow of jazz phrasing with the attitude and edge of rock phrasing. Also the drum sound on the Hendrix records was so bold and open. He was one of the great trendsetters.
Antonio Sanchez (Pat Metheny)
I remember being in my grandparents' living room in Mexico City in the early '80s and my mom yelled across the room, "Antonio! Come quick, Jimi Hendrix is on TV!" Having grown up with a "Woodstock mom," I knew perfectly well who Jimi Hendrix was. I also knew I loved his drummer: Mitch Mitchell. Advertisement
Mitch was a big influence on me right from the start. I remember seeing a bunch of clips where Jimi, Mitch, and Noel Redding were not only wearing some of the hippest clothes I had ever seen but were also playing some incredible music that looked like it was so much fun. I just felt like I wanted to do that.
What I think is unique about Mitch is that he seemed to have the sensitivity and awareness of a jazz drummer with the fire of a rock star. He had great command of the instrument and always elevated the music to another realm but never overpowered it.
Jack Irons (Wallflowers)
Even to this day, the thing that amazes me is that Mitch was so young when he was with Jimi. The freedom he had when he played, the flow, was always what struck me. I was never a player like that when I was so young. I'm more like that now, but to have produced that kind of flow at that age is so amazing. To have that be such a lasting influence for so many years is incredible. Advertisement
Most drummers and musicians who appreciate rock music will listen to those recordings. Mitch was perfect for Jimi Hendrix because he was the same free kind of player. He could go in all kinds of directions and make something great happen, and those are unusual skills. Mitch always had a groove that was different–the feelings and tempos were different from where I was at when I was growing up and playing. When the Chili Peppers did the version of "Fire," we played it really fast because we wanted it to be fast, but I also think it was in a certain comfort zone for us. The Jimi Hendrix version is just a really unique groove and feel.
What can I say? Mitch did three or four years of incredible documented work and is considered one of the most influential rock 'n' roll drummers. My daughter, who's a teenager, loves Jimi Hendrix today. When you do something that good and that true to whatever you are as an artist, it's amazing how much pleasure people get out of it.
I met Mitch on a couple of occasions. Before the Chili Peppers got signed, we were doing a demo, and he was a friend of somebody's and came by to just hang out. I can tell you, we definitely froze having him there. We didn't get much done that day! We were kids and we wanted to impress. Then I was in a band called What Is This, and he came to some of our shows and liked the band and hung out a little. He was a really nice man. Advertisement