Great Drum Parts = GENIUS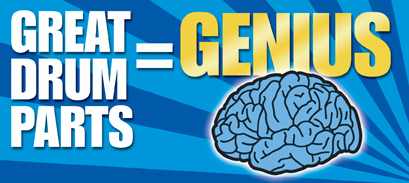 The
MD

Editors Weigh In

The March issue of MD (out now) features Billy Ward's fascinating conversation with Simon Phillips, Doane Perry, Marco Minnemann, Thomas Lang, and Jerry Marotta about the grooves that inspired them to play drums early on, and that continue to today. It seemed to make perfect sense for MD's editors to jump in on the conversation. (Okay, either way there was no way we weren't gonna put our own two cents in.) So here you have it: the drum parts that remain most near and dear to our once-teenage hearts.
From former editor in chief Bill Miller
1) Grand Funk Railroad, "We're An American Band" (1973)
Don Brewer's battle cry understood American rock 'n' roll, and on this classic tune he plays and sings his pants off. The syncopated cowbell-driven-intro groove–one of the coolest licks ever concocted on a set of drums, and a pretty challenging pattern to play, especially when the fast bass drum notes enter–point out Don clearly understood what it took get your party down.
2) Ahmad Jamal, "Surrey With The Fringe On Top" (1958)
One of the finest brush performances ever, courtesy drummer Vernell Fournier, "Surry" is a rippin', up-tempo rollercoaster ride that continues to inspire to this day. The trio is incredibly tight, and they played this tune with a swagger that is simply awe-inspiring. No question, this is a special performance on a special recording. Advertisement
3) Benny Goodman Orchestra, "Sing, Sing, Sing" (1938)
My dad was a huge fan of big band, and I'll never forget the day he came home from work and cranked this classic on the stereo. Gene Krupa swang this one into poor health, pounding out a driving floor-tom pattern with a solid four underneath. As a six-year-old, I was hooked–a drummer from then on.
4) Billy Cobham, "Anteres–The Star" (1977)
This tune had just about everything you could ask for in a fusion tune–over-the-top drum fills, a syncopated Latin-esque groove, double bass work, and a massive kit played by the preeminent master of the era. But the thing that freaked out this sixteen-year-old drummer at the time were two massive, round-house fills played on Octobans, drums designed by Cobham himself. (On headphones, the fill literally panned around the inside of your head.) It was–and still is– a proud moment for drummers who like it "to the extreme."
5) Chicago, "25 Or 6 To 4" (1970)
If you started playing drums at the end of the 1960s and were into technique, there's a good chance Danny Seraphine inspired you to play drums. Early on, Chicago played a lot of cool big band–inspired rock tunes that had drummers racing to the practice room. I know I did. "25 Or 6 To 4" had a driving, quirky beat that landed on beat "4," and DS kept things interesting with a smattering of cool, short fills throughout. My favorite moment–and I do mean moment–was at the very end of the tune. A clean crescendo role on the floor tom that was simply perfect. Advertisement
Note: This was the last piece that editor in chief Bill Miller worked on before he passed away. He was as excited as the rest of us were to recall the tracks that inspired us when we were first learning our craft.
From associate editor Billy Amendola
1) Spiral Starecase, "More Today Than Yesterday" (1969)
This was one of the first AM radio pop songs that the kick drum really popped out for me and made me realize I could do more with it without getting super-busy and in the way of the song. And it was my first shuffle groove–the horns made it sound almost "big band" but not quite–and it still rocked! I always thought it was a session drummer, but band member Vinnie Parello is credited with playing on the tune.
2) The Beatles, "Day Tripper" (1965)
I could probably list just about every song Ringo Starr played on as an inspiration, but this Lennon guitar riff–driven track did it for me. This was a double-A-sided single; "We Can Work It Out" was the flip side, and it's where I first learned about a waltz beat. "Day Tripper" was Ringo at his best…love that driving 2 and 4 into 4-on-the-floor beat, the tambourine, and those rolls, especially at the end–classic! Advertisement
3) Tommy Roe, "Dizzy" (1969)
Hal Blaine was one of my favorite drummers way before I even knew who he was. Years later I found out that most of my favorite records to play along to when I was growing up–"Midnight Confessions" and "Sooner Or Later" by The Grass Roots, "Steppin' Stone" by The Monkees–were almost all recorded by Hal. I couldn't believe it, and that's when I first thought, "Studio drummer–that's a good job!" On "Dizzy," there weren't many songs at the time that featured a drum fill as a hook. At a young age, it was a proud moment when I learned to play that beat.
4) Ides Of March, "Vehicle" (1970)
Another song I assumed was recorded by studio musicians, but the record books state that band member Mike Borch played the drums on this classic. I really felt like I was cool being able to play this groove at thirteen. It made me feel like I was better than all the other drummers in the neighborhood. Slight offbeats on the snare, cool fills, and a bit funky, too.
Speaking of funky, besides being heavily influenced by Motown a couple years earlier, hearing "Expressway To Your Heart" by Soul Survivors, with the late Joey Forgione on drums, turned me on to the great Gamble & Huff and the amazing Philly Sound. And both these songs later turned me on to bands like Blood Sweat & Tears and Chicago. Advertisement
5) The Rascals, "Come On Up" (1966)
Dino Danelli was the coolest looking and sounding drummer of the day. When I was eleven and saw him twirling his sticks on Ed Sullivan, I was hooked from the get-go. "Come On Up" was one of the first songs I ever played in a band–and I could immediately see the reaction from the girls when we played it! That driving beat with the open-bark on the hi-hat on the upbeat along with that cool break down–now that's rock 'n' roll!
From editorial director Adam Budofsky
1) The Beatles, "Rain" (1966 single, released on Hey Jude in 1970)
We had a hippie babysitter who used to bring over her Beatle records and play them for us. Forty years later, I still have a crush on her, mainly for exposing me to the unbelievably cool fills Ringo Starr slips in throughout this cut. Ringo was the psychedelic drummer. (Thanks, babysitter Karen, wherever you might be.)
2) Humble Pie, "30 Days In The Hole" (1972)
Good God, could these British boogie boys lay it down. Nothing fancy here, just good, not-so-clean fun, played like they meant it. I fell hook, line, and sinker when Jerry Shirley went to the floor tom in verse two. I wanted to be able to make people feel as good as those thirty seconds made–and still make–me feel. Advertisement
3) The Raspberries, "Tonight" (1973)
Where pop and rock perfectly intersect. Jim Bonfanti's Ringo/Kenney Jones–inspired fills throughout this track are over-the-top dramatic–not chopsy, but emotional as could be, and recorded HUGELY by Shelly Yakus and Jimmy Ienner.
4) The Who, "The Real Me" (1973)
Okay, here's where things get serious. Yes, Keith Moon had a serious side, and The Who's second double concept album–as heavy a musical statement as has ever been made–benefited enormously from Moony's rolling, surging, and at times downright funky full-kit onslaught. It isn't about parts on this one; it's the totality of Keith's gutsy approach that absolutely blew my young drummer mind.
5) Elton John, "Don't Let The Sun Go Down On Me" (1974)
My sister was an Elton John freak when we were growing up. This famous ballad from Caribou is the perfect example of drummer Nigel Olsson's wicked way with a slow ballad, and an eye-opener for me that you could move people with drums even when playing slooowwwly–at least if you could deliver heartbreaking fills like the one Nigel does at 3:42. Advertisement
From managing editor Mike Dawson
1) Living Colour, "Cult Of Personality" (1988)
This was the first song that made me want to be a drummer. Will Calhoun just looked so cool in the video behind that big drumset with his ride cymbal positioned way up high. And those fills during in the choruses and guitar solo…monstrous.
2) The Ramones, "I Just Want To Have Something To Do" (1978)
The Christmas that I got my first drumset, my brother also got an electric guitar. The first thing we did was throw on Road To Ruin so we could figure out the opening cut. This song, featuring Marky Ramone, taught me everything about drumming: how to keep steady time, when to switch to the ride cymbal, and that playing the bass drum independent of the snare is WAY harder than it seems.
3) Tone Loc, "Wild Thing" (1989)
I remember how proud I was when I learned to play that classic descending tom fill from this song–on the back of the headrest of my parents' car.
4) U2, "Sunday Bloody Sunday" (1983)
I'm a natural lefty who learned to play on a right-handed drumset. So Larry Mullen Jr.'s opening beat had me all twisted up–until I figured out that you're supposed to start the pattern with the right hand. Advertisement
5) Primus, "Jerry Was A Racecar Driver" (1991)
I first heard (and saw) this song performed live on an MTV Spring Break show. As soon as I heard Tim Alexander play those quick bass-drum triplets, I immediately began saving my allowance for a double pedal.
A Hot 50
From MD Wire Readers!
If you're familiar with MD Wire, Modern Drummer's free monthly e-newsletter, then you know that we end each installment with a drumming question. Recently we asked readers to chime in about the drum tracks that inspired them early on. Within days we'd received several hundred suggestions. Here are the first fifty that came in. Thanks to all of you who weighed in on this topic, whether you made the cut or not. And if you're not yet an MD Wire subscriber, be sure to sign up here–it's free!
1) "Foxy Lady," Jimi Hendrix, Mitch Mitchell
2) "Shapes Of Things," The Yardbirds, Jim McCarty
3) "In-A-Gadda-Da-Vida," Iron Butterfly, Ron Bushy
4) "The Ocean," Led Zeppelin, John Bonham
5) "Roundabout," Yes, Bill Bruford
6) "In The Air Tonight," Phil Collins
7) "Tom Sawyer," Rush, Neil Peart
8) "Saturday Night's Alright For Fighting," Elton John, Nigel Olsson
9) "Flight Of The Rat," Deep Purple, Ian Paice
10) "Wipe Out," The Ventures, Ron Wilson
11) "Inside Looking Out," Grand Funk Railroad, Don Brewer
12) "Fireball," Deep Purple, Ian Paice
13) "The Mule," Deep Purple, Ian Paice
14) "In Rock," Deep Purple, Ian Paice
15) "Living Wreck," Deep Purple, Ian Paice
16) "Heart Of The Sunrise," Yes, Bill Bruford
17) "Working Man" (live version), Rush, Neil Peart
18) Friends (album), Chick Corea, Steve Gadd
18) August And Everything After, Counting Crows, Steve Bowman
19) "Take Five," The Dave Brubeck Quartet, Joe Morello
20) "Quadrant 4," Billy Cobham, Billy Cobham
21) "Let It Rain," Eric Clapton, Jim Gordon
22) "Layla," Derek And The Dominos, Jim Gordon
23) "She Loves You," The Beatles, Ringo Starr
24) "Who Loves You," Frankie Valli, Gerry Polci
25) "Red Barchetta," Rush, Neil Peart
26) "One," Metallica, Lars Ulrich
27) "Glad All Over," Dave Clark Five, Dave Clark
28) "Wouldn't It Be Nice," The Beach Boys, Hal Blaine
29) "Hoedown," Emerson, Lake & Palmer, Carl Palmer
30) "Let There Be Drums," Sandy Nelson, Sandy Nelson
31) Max Roach and Buddy Rich, Roach Vs. Rich, Max Roach, Buddy Rich
32) "Where Were You," Journey, Steve Smith
33) "Won't Get Fooled Again," The Who, Keith Moon
34) "Tom Sawyer," Rush, Neil Peart
35) "Instant Karma," John Lennon, Alan White
36) "Make Me Smile," Chicago, Danny Seraphine
37) "Ain't No Sunshine," Bill Withers, Al Jackson Jr.
38) "Fire," Jimi Hendrix, Mitch Mitchell
39) "A Love Supreme," John Coltrane, Elvin Jones
40) "Tomorrow Never Knows," The Beatles, Ringo Starr
41) "What Is Hip," Tower Of Power, David Garibaldi
42) "Jumpin' Jack Flash," The Rolling Stones, Charlie Watts
43) "Mellow Yellow," Donovan, Keith Webb
44) "Won't Get Fooled Again," The Who, Keith Moon
45) "Sunshine Of Your Love," Cream, Ginger Baker
46) "We Will Rock You," Queen, Roger Taylor
47) "Light My Fire," The Doors, John Densmore
48) "Hot For Teacher," Van Halen, Alex Van Halen
49) "Dance With The Devil," Cozy Powell, Cozy Powell
50) "Lowdown"–Boz Scaggs, Jeff Porcaro Advertisement