Todd Anders Johnson of Salem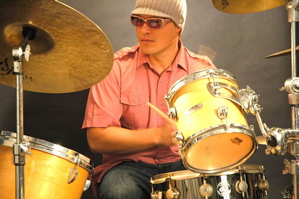 Greetings, Modern Drummers. My name is Todd Anders Johnson, and my band is called Salem. Our music is a blend of socially conscious funk, Afro-Cuban jazz, and hip-hop. I'm the drummer, vocalist, lyricist, composer, and producer in the band, and we've recently released our debut studio album, As It Is Above, So It Is Below. You can check it out on iTunes, at www.digstation.com/ArtistAlbums.aspx?artistname=salem, and at www.cdbaby.com/cd/salem3.
MD featured me in the On The Move department a couple of years ago, so I thought I'd let you know what I've been up to with my group since then. I've been living in Boulder, Colorado and have now tied together my passions for drums, music, touring, social activism—and snowboarding!
Salem is playing the biggest ski and snowboard events these days, like EXPN's Winter X 12 Games in Aspen, 48 Straight's King Of The Mountain in Sun Valley, the US Freeskiing Open at Copper Mountain, the Northface Masters US Snowboarding Open in Girdwood, Alaska, and the MSI US Freeskiing Party in Jackson. Warren Miller has been featuring Salem music in movies like Off The Grid and in trailers in last year's film tour for Playground. Advertisement
I'm now being sponsored by Libtech Snowboards and Folsom Custom Skis, which are both very eco-conscious in their manufacturing processes. I'm also working with Southeast Alaska Backcountry Adventures, a backcountry helicopter and snow-cat ski and snowboard guide company in Haines, Alaska. They have trips for normal clients, but they also fly professional athletes and cinematographers to remote backcountry peaks with Teton Gravity Research and Absinthe Films. Mountainsmith and Boulder Outdoor Center are also sponsoring Salem and our tours, which allows people to check out gear and classes for safe adventures in the backcountry.
Salem regularly tours throughout the cities and ski-resort towns in Colorado, Alaska, Jackson Hole, and Sun Valley, and this year we've toured Seattle and Alaska three times. Most notable was our three-week CD-release tour in August, traveling in a vegetable oil—powered shuttle bus with Earth Concepts Inc. that culminated in our headlining the Seattle Hempfest Mainstage for 10,000 people. It was meaningful to be powered by alternative fuel during a tour on which I'm singing about social change in the US. Bono's One Campaign also flew me to Philadelphia last fall to take part on a diverse panel discussion and performance at the University of Pennsylvania. I hope to perform with Salem at more colleges this year in support of the new CD powered by vege-oil.
The new Salem album was recorded at Far & Away Studios in Boulder, Colorado by Geoff Gray. The first track, "Northward," was mixed at Outkast's Stankonia Studios by Grammy-winning mix engineer and studio manager John Frye. The album was mastered by Grammy-winning engineer David Glasser at Airshow Mastering. I hope that you'll listen to some of the tracks and come find us in the powder this season. Advertisement
Peace.
For more on Todd Anders Johnson and Salem, go to www.salem-music.com or www.myspace.com/salemtoddandersjohnson.