Danielson's Patrick Berkery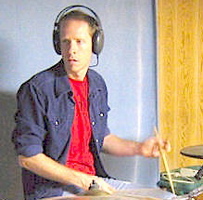 Trying Hartz 2008 Fall Tour Blog Diary
Of all the administrative-type questions I've ever received prior to a tour ("What's your Social Security number?" "When does your passport expire?"), this was by far the strangest:
"What's your shoe size?"
Asking the question was Daniel Smith, who'd drafted me to go on tour with his ever-shifting New Jersey—based collective known as Danielson. Not only is Daniel a top-shelf tunesmith (pun absolutely intended), producer, and bandleader, he's a dealmaker. Daniel had struck a barter with shoemaker John Fluevog—a snappy tune ("Flip Flop Flim Flam") in exchange for some sharp shoes (pictured) to go with our stage attire (a Dickies and work shirt combo falling somewhere between male flight attendant and mall security guard). Hence the need for my feet's vitals (13, wide-ish, if you're keeping score at home).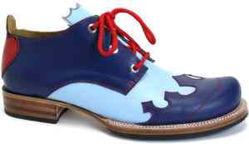 The shoes were required for a fall tour to promote the compilation Trying Hartz, a handy compendium chronicling Danielson's work (a dizzying variety of stuff rarely arranged in systems of 4s and 8s and with a lot of moving parts—trust me, I had to learn it) prior to 2006's acclaimed album, Ships. So as a team of artisans handcrafted seven pairs of shoes, we got to rehearsing. Advertisement
With the exception of Christiaan Palladino on keys and vocals, and cameos from Daniel's sisters Rachel (L.A.) and Megan (New York and Philly) on vocals and Ted Velykis on guitar (New York and Philly), this was an all-new Danielson lineup. Josh Stamper, bass and vocals; Chris Cohen, lead guitar; Nedelle Torrisi, vocals and glock; Mike Carreira, percussion (quick sidebar: Chris, Nedelle, and Mike make up the fantastic trio Cryptacize, which opened all shows on the tour; more to follow); Daniel on lead vocals and acoustic guitar; and yours truly on drums and wardrobe maintenance. I had the unglamorous task of corralling everyone's outfit and shoes post-show and making sure they were packed away wrinkle free and smelling daisy fresh. One outta two ain't bad.
What follows is a warts and all rundown of the Trying Hartz tour, which took us through most of the country at a breakneck pace. And there was nary a meal at Cracker Barrel. Call the Guinness people. That has to be some sort of record, no?

Friday, Oct. 31, Knitting Factory, New York City
Big doings in Greenwich Village on Halloween, and we fit right in with our getups. I meet Mike for the first time during soundcheck, as he flew in from San Francisco that morning. He's not playing with us tonight but hopes to sit in for Sunday's show in Philly. I'm psyched, as I've never played alongside a percussionist on a regular basis. I'm here to tell you it was a pleasure playing with Mike each night. He does a lot of improv playing, so he was in the pocket in no time at all, playing a small snare, maraca, and tambourine. We probably spent about three minutes discussing our 'parts' the entire tour. The rest of the time we plotted the feeble end of tour pranks on each other, which never really materialized. As for tonight's gig, it was shockingly together for a first show where the drummer was scribbling notes until just before showtime. No train wrecks, no one got hurt, and the shoes arrived successfully. A good opening night.
Sunday, Nov. 2, 941 Theatre, Philadelphia
The city is nursing a World Series hangover. The 941 Theatre, meanwhile, suffers from lack of a decent PA. The room is new to putting on rock shows, so they don't quite have all their ducks in a row yet. There's potential, though. As with Friday's show, Josh and I play with opener Dan Zimmerman, (www.myspace.com/cdanzimmerman) who's a neighbor of mine in central New Jersey and a great singer-songwriter with a deep, resonant voice. Dan's stuff is pretty mellow, so I get to use all sorts of funky stuff like brushes and Broom Sticks and cymbal sizzles. It's nice to play a quiet-ish set to start the evening. Ortolan, another act with Danielson connections, opened the New York and Philly dates. Ortolan is four young ladies playing throwback pop tunes that belie the members' tender ages. Can't recommend them enough. Their debut album comes out in '09. Due to spotty sound we cut it a little shorter than the New York show, and this ends up becoming the set list for pretty much the rest of the tour. For the most part, I'm off the notes and can feel things slowly starting to gel. Advertisement
Tuesday, Nov. 4, Crofoot Pike Room, Pontiac, Michigan
Election Day 2008. I'll always have fond memories of this night. I cast my absentee ballot a couple weeks back, and wouldn't you know it, my guy won. As fate would have it, the venue is just across the street from the local Obama campaign headquarters. So while our gig is in the smaller annex room upstairs, the big ballroom downstairs is hosting what turns out to be an electric Obama victory party, with giant projection screen TVs and a multicultural mix of hundreds celebrating. And pretty good gumbo to boot. I think Barack got the win about two-thirds of the way into our set. The Phils winning the World Series Barack winning in the space of a week. Life can be sweet sometimes. No complaints at all with this gig. Nice crowd, and a great-sounding room. I'm finding that for a seven-piece band we don't make a ton of noise, which makes us fairly easy to mix and gives us room to hit on some nice dynamics.

Wednesday, Nov. 5, Reggie's, Chicago
I've probably played Chicago fifteen times over the years. One of the best cities for live music in the U.S.—it's always a good time here. Tonight marks my first time playing on the South Side, as we're at Reggie's, a slightly grimy yet decent-size rock club with great sound and…A DRUM RISER! Count me in the pro-drum-riser camp. Chicago's going through a little post-election hangover, but it's a strong and spirited crowd that turns up tonight hanging on pretty much every word of Daniel's songs. This is impressive, because the set comprises mostly more obscure tunes. I'm just now getting to the point where I can stop thinking about each and every note I'm playing and enjoy the interplay with Josh (a fine bassist and teacher who's probably forgotten more about jazz than I'll ever know) and Chris Cohen. Chris seems to incorporate some new atonal wrinkle into the songs with each show, prompting me look his way to give him "the approving nod" several times a night.
Thursday, Nov. 6, Triple Rock Social Club, Minneapolis, Minnesota
Today is our first 'long drive' day, a seven-hour hop. It's been two years since I've toured, so I spent the day whipping my road instincts back into shape. Like being able to look at a town from the highway exit and tell if there's going to be a Starbucks there, and if so, exactly where it will be. It's been about five years since I last played at the Triple Rock, but it's just how I remembered: a nice dead sound on stage, good monitors, great food, and nice staff. The dressing room, sadly, remains a little on the postage-stamp-size side. This makes my pre-show yoga routine a little tough, and makes the sight of six guys simultaneously trying to slip into their stage duds in a 12×12 room look like something out of a Marx Brothers movie.

Friday, Nov. 7, Waiting Room, Omaha, Nebraska
This is my first time playing in Omaha. Nebraska was previously just a state in my way. The Waiting Room smacks of a sports bar converted into a rock club, but it's a decent gig. Another long drive today has us arriving later than we like, but a nice and easy soundcheck hints at a good gig, which it is. Yet further proof that if you keep your stage volume at a decent level, everything usually falls into place. It's a bitter-cold night, but Daniel's genial rapport with the crowd (it helps to have a genial rapport with people when you're asking them to clap, snap their fingers, or sing along with 85 percent of your songs) warms things up. I finally swap out my snare head after tonight's gig if for no other reason than the good people of Denver deserve a fresh snare head. And that is exactly what they get. If only I could bring myself to change my underwear this often. I'm kidding, of course. One of my cardinal rules of touring is changing the 'backline' (underwear and socks) each day, whether you think you need to or not. Trust me, you need to.
Saturday, Nov. 8, Hi-Dive, Denver, Colorado
There was a weird thing on this tour where we often seemed to be in the midst of police activity. Usually, it was random busts at hotels off the interstate (not uncommon). Tonight, just as we pull up to the gig—in daylight, in a fairly gentrified part of town—some guy tries to break into someone's car, and that someone starts wailing on the perp and detains him until the cops arrive a short time later. Thankfully, that's the end of the evening's drama. The place is pretty packed and the gig goes down smoothly. Though I'm told after the fact that the sound engineer had my kit too low in the mix, which dulls my post-show buzz a bit. I'm the type of player that doesn't like to hear or see recordings of a gig, and I'd rather not get into the minutiae of a show after it's done. I can tell whether or not it's gone well. Anything I see or hear after the fact usually just gets me thinking way too much about the gig. Advertisement
Sunday, Nov. 9, Kilby Court, Salt Lake City, Utah
A long but beautiful drive today through Wyoming's Big Sky country. It's during this drive where I realize Cryptacize has infected me with their catchy tunes. I cannot shake them. None of us can. And we spend a bit of time today listening to the final mix of their forthcoming record, which doesn't help matters any. Tonight's gig could've gone completely south, as the PA setup at Kilby Court (an indoor/outdoor venue, which, thankfully on this damp, chilly evening has us playing indoors) makes the system in Philly seem like Madison Square Garden. But we've got our stuff together to the point where having one working monitor and crappy mains is just something you deal with. I play a little quieter than normal given the monitor situation, and it turns out to be a wonderful show.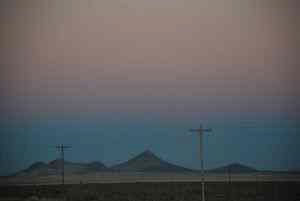 Monday, Nov. 10, drive day, Salt Lake City to Seattle
Drive days can be a drag. You get in the playing groove and you don't want it interrupted. When the drive day allows for a trip to Snake River Canyon (site of an infamous Evel Knievel stunt) in Twin Falls, Idaho, you thank your lucky stars for that drive day. Third time I've been here. Seems more mind-blowingly awesome each time.

Tuesday, Nov. 11, Vera Project, Seattle
Why do I rate the Vera Project as possibly my favorite venue of the whole tour? Three words: air hockey table. Amazing sound too. The Vera Project has a volunteer program where people can learn sound on the job. This has the potential to be a complete nightmare on every level, but thankfully there was a crack crew running things tonight. "Daughters Will Tune You," a very delicate song at the beginning and end with swelling passages in the middle, is becoming my favorite tune in the set. I had a crystal-clear mix in my wedge tonight so I could really feel the song's nuances: Dan's fingerpicking, the melodic bass runs, Nedelle's harmonies, and the audience's finger snapping. It's so much easier to play with a great monitor mix. There's no struggle involved. It's just the pure joy of playing and listening.
Wednesday, Nov. 12, Backspace, Portland, Oregon
From damn-near-perfect sound last night to far-from-perfect sound tonight. In the interest of trying to get in as many all-ages shows as possible, we've found ourselves in venues with less-than-ideal infrastructure. Backspace is a vegan coffee shop/Web cafe by day, rock club with high ceiling and too much glass by night. All things considered, the show went off fine, thanks in large part to the very nice Australian girl running sound whose name escapes me. It was one of the liveliest crowds of the tour by far, many of whom waited in the rain before the doors opened. I seem to remember a guy down front wearing a dress. And I thought outfits were a little out there. Celebrity sighting: We were staying at the same hotel as The Breeders. Chatted with them the next morning. Advertisement
Friday, Nov. 14, Bottom Of The Hill, San Francisco
An early-morning stop in the Redwoods (a must) has us hustling to make soundcheck on time. The constant motion on tour to get from one city to another on time can suck the life out of you if you let it. I feel that if you've got a chance to see and/or do something truly wonderful that might add a couple hours to your journey, you should do it. If touring becomes nothing more than drive-soundcheck-gig-hotel, day in, day out, it feels like a job. And while touring is hard work at times, it shouldn't have to feel like a job. Anyway, we end up making it in time to soundcheck, and the gig is a blast. Another night where I can hear everything perfectly and just play. It took some doing to learn all these songs and commit them to memory, but it finally feels like the training wheels are off and I can dig in and cut loose. I catch Chris and Josh laughing when I play the more outlandish fills. I just hope they're laughing with my fills, not at them.
Saturday, Nov. 15, Troubadour, West Hollywood, California
If not for the perpetual threat of natural disasters, I could easily see myself living in Southern California. I've been through an earthquake there, and now I've experienced fires. Horrible fires in southern California wreaked havoc with our travel plans. We left S.F. at 8 A.M. so we could play a 3:30 in-store at John Fluevog's store in Hollywood. That didn't happen, as fire caused the closing of I-5, sending us on a gridlocked detour we might still be stuck in if not for some kind locals we spoke with during a bathroom break. They hipped us to a secret mountain road that took us right to 101. We make it to the legendary Troubadour on time, and it's a thoroughly enjoyable gig in a top-notch rock room. Dan's sister Rachel joins us on backing vocals, and her husband's band Soul-Junk opens with an amazing set. They feature a fifteen-year-old drummer named Jude who, mark my words, will be in Modern Drummer before too long. Jude has the instincts to be a monster. He just needs to grow a couple of inches. Celebrity sighting: Mark Wahlberg getting into his car behind the Troubadour as we pull up.
Sunday, Nov. 16, Modified, Phoenix, Arizona
A little bit of a struggle to get things sounding right in this art space cum venue, but we manage. I'll again chalk it up to sensible stage volume. Very nice crowd. A smaller dressing room than the one in Minneapolis makes getting changed for the gig into a slapstick circus. I swear two guys ended up in the same pair of slacks. We were able to do lunch at In-N-Out Burger on the way to Phoenix. Eighty-ish degrees and sunny the whole way. In the words of Ice Cube, I gotta say it was a good day. Advertisement
Tuesday, Nov. 18, Mohawk, Austin, Texas
I'm in one of the finest food cities in the U.S., and tonight's gig (outdoors, unbeknownst to us) is within spitting distance of the celebrated barbecue joint Stubbs. Yet after a couple of days driving through New Mexico and west Texas, I'm a little meat-and-potatoes'd out. So for dinner, it's a yogurt parfait. Should I be commended for my healthy eating choices or have my head examined? As for the show, an Austin band called Loxsly opened (sort of a Syd Barrett—era Floyd meets Flaming Lips vibe). They were great, though their drummer welted my tom heads and busted my kick pedal. To keep the changeovers simple, I'd been offering my kit to local openers. Loxsly's drummer was a great player and nice fella, but he didn't have to thrash my kit like it said something rude about his sister. After Austin, no one else played the kit but me.
Wednesday, Nov. 19, Walter's On Washington, Houston, Texas
The last time I was supposed to play Walter's (Aug. '05 with Pernice Brothers) the club was raided just after soundcheck (I recall federal agents shutting it down over unpaid taxes, though the soundman tonight said it was a state liquor control board thing) and we had to remove our gear in a hurry so it wouldn't be confiscated. So just by getting to perform tonight, we were playing with house money as far as I was concerned. Turned out to be a great show. Really feeling the set taking shape—the wild opening songs, the longer pieces in the middle, the tender ones toward the end—with a nice pace the whole way through. Hard to believe there are only four more shows.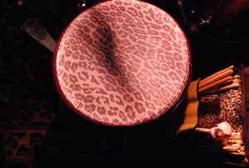 Thursday, Nov. 20, Granada Theater, Dallas, Texas
We're in a beautiful old theater tonight. Friendly crew helps us load in and load out, there's a great catered meal, some nice bottles of vino, top-shelf monitor guy, a leopard-print drum rug to match my leopard-print stick bag and throne—you have to watch so you don't get spoiled by gigs like these. (see above) Tremendous opening band, too, called Mount Righteous. Ten pieces with marching percussion, tuba, and several vocalists. They made a real joyous noise.
Friday, Nov. 21, Hi Tone, Memphis, Tennessee
I've always liked playing the Hi Tone. Great sound on stage and always a nice crowd. Though I think we're feeling the mind-numbing effect of these never-ending days in the van (today was an eight-hour hop). If you want to cover the U.S. in three weeks, there is some driving involved. My attempt at hitting Mike with an end-of-tour prank (the old talcum-powder-on-the-snare-head trick) is thwarted when he notices white powder all down the front of my shirt. I'd make a terrible criminal.

Saturday, Nov. 22, 40 Watt Club, Athens, Georgia
Judging by the graffiti in the dressing room, everyone has played the venerable 40 Watt Club. Except me. Until tonight, that is. Sweet-sounding room leads to one of the top shows of the tour, I think. We added a song called "Body English" to the set a few nights back that finds me pushing my limited hand-foot coordination to the limit. I'm working a shaker with my right hand while I approximate some sort of breakbeat with my left hand and right foot. Oh, and this being a Danielson song, there are several odd-timed breaks, stops, and room for manic drum fills. All in one neat 1:45 package. Advertisement
Sunday, Nov. 23, Grey Eagle, Asheville, North Carolina
Wow. Guess this is it. We close our tour in the mountains of western North Carolina at an old square dance hall called the Grey Eagle. Wonderful Cajun food, wonderful gig. One last really raucous crowd. One last wonderful-sounding stage. One last chance for Cryptacize to drill their evil, quirky songs deeper into my subconscious. One more absolutely pleasurable hour of playing music with these guys. I will certainly miss this, as I always do.
Patrick Berkery is a contributing writer for Modern Drummer who has played with Pernice Brothers, Bigger Lovers, and Mazarin, among others. Visit his MySpace page here.