Pat Wilson: Hearing Red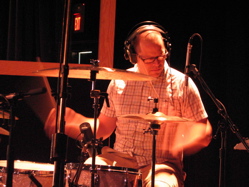 When Weezer entered the studio to track their sixth album, the band was committed to finding a fresh approach to their recording experience. "Recording The Red Album was a struggle in some ways," admits drummer Pat Wilson. "The songs on the last record were good, and the single, 'Beverly Hills,' was very successful. But the process had become stale. We felt like we had to 'grow the band' and somewhat retool how we approach music. From my perspective, that had to do with how the drums are captured. I don't like the idea of a mix drastically changing what happens in the studio. If it sounds good to my ears while I'm playing the drums, then that's what I want to hear on the finished recording."
The Red Album features many new twists for Weezer, including each member contributing to songwriting and lead vocals, and switching up instruments. "In the process, that made all the difference," confesses Pat, who plays synthesizer and lead guitar on several tracks.
The drummer also wrote and sings lead on "Automatic," on which he plays an un-muffled Ludwig Vistalite kit, a nod to his favorite drummer, John Bonham. "I love the atmosphere of Bonham's drums–how he thought of the kit as one instrument–and how he's so laid back in the cut. My feel, naturally, is to be behind the beat. And I just happen to enjoy what drums actually sound like in a room when you put up a couple of mics. To me, nothing sounds better than that." Advertisement
Gail Worley
There's more to this article in the January 2009 issue of Modern Drummer, now in the Modern Drummer Archive.